May 8, 2012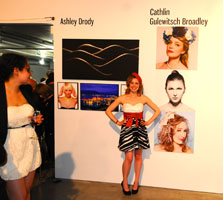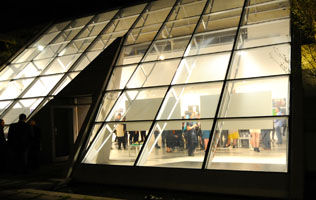 Left: Graduating student Cathlin Gulewitsch Broadley stands with some of her work.
Right: The crowd as seen from outside Vancouver's Waterfall Building. Photos: Tomo Tanaka.

Vancouver, BC – Langara's Photo-Imaging graduates put on a spectacular showcase of work at Vancouver's Waterfall Building last week.

The exhibition featured pieces by 18 passionate students focusing on a range of photographic disciplines, from contemporary fashion to creative landscape work. Visitors at the packed gallery space were treated to a unique blend of imagery while enjoying the company of the graduating class and their faculty.   
"The atmosphere and quality of work at the Photo-Imaging grad show was outstanding," said Tomo Tanaka, Division Chair for the Creative Arts. "It's no wonder we have several award-winning photographers in this graduating class."
Among the graduates was Kezia Nathe, who was recently selected as Student Photographer of the Year (PPOY) at the Professional Photographers of Canada (BC) Awards. Talented Kezia was also awarded with the Jan de Haas Memorial Trophy for Most Creative Image at the PPOY Awards, an honour selected by judges from all categories, student and professional alike.

Langara College's two-year, full-time Diploma in Professional Photo-Imaging Program is unique in British Columbia. It combines the aesthetic and business aspects of photography with a solid technical background. The majority of the photographic assignments are based on 'commercial' as opposed to 'fine art' considerations. This orientation gives realistic preparation for the demanding requirements of the photographic industry, as employees and as entrepreneurs. Students receive instruction in both traditional and emerging electronic/digital imaging techniques.

To see more work from this year's graduates visit www.langaraphotograds.com.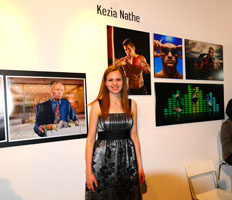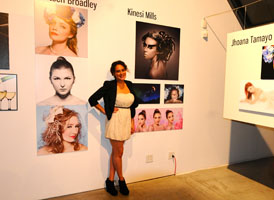 Left: Award-winning graduate Kezia Nathe stands with her work.
Right: Graduate Kinesi Mills presents her impressive collection.


Learn more.
Annie Mullins
Communications Officer
Communications & Marketing Services
T 604 323 5058
amullins@langara.bc.ca