May 2, 2012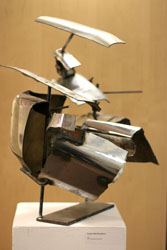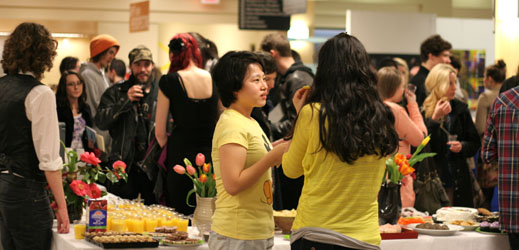 Left: A sculpture by exhibiting artist Austin Macnaughton.
Right: The crowd on opening night. Photos: Annie Mullins

Vancouver, BC
– Hundreds of members of the art community visited the Langara campus this week to take in an exhibition of work by the College's graduating Fine Arts students.
The show – the 41
st
Annual Fine Arts Student Exhibition – showcased an outstanding collection of ceramics, paintings, digital design, sculpture, and prints, amongst other works. Approximately 150 pieces, created by the 45 talented artists graduating from the Langara Fine Arts Diploma Program, were on display in a gallery space and media room.  
A gala reception was held to open the show on April 25
th
, where six students were recognized with special awards in front of a packed gallery of friends, family members, and art lovers. Artist Jenn Pearson was recognized with the Drawing Award for her "outstanding performance and positive influence in all phases of the drawing discipline." She was joined by Linh Ty So, who won the Design Award, and Alexis Hogan, who was presented with the Sculpture Award. The Printmaking Award was given to Nicole Dumas, with the Ceramics Award and the Digital Design Award going to Shannon Leigh Bentlay and Stewart Hall respectively. Cash prizes were attached to all of the accolades.  
"For two years or more these Fine Arts students have been on a journey that has demanded hours of time, dedication, and hard work," said Tim Nash, Department Chair for Fine Arts. "They have struggled and learned to transform ideas and materials into images and objects. This exhibition is a small sampling of the beautiful, thoughtful, and sometimes challenging artworks these students have produced."  
The collection was on display from April 25
th
to May 2
nd
.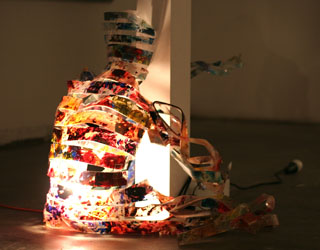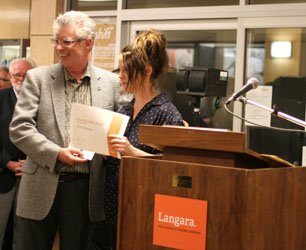 Left: A piece of student work lights up the media room.
Right: Jenn Pearson is presented with the Drawing Award by instructor Gordon Trick.


Learn more.
Annie Mullins
Communications Officer
Communications & Marketing Services
T 604 323 5058
amullins@langara.bc.ca