Mar 12, 2012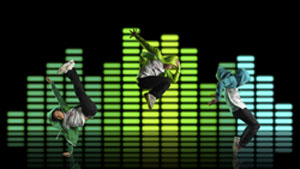 "Pump It Up" by Kezia Nathe won the Jan de Haas Memorial Trophy for Most Creative Image. Copyright Kezia Nathe.
Vancouver, BC – Students and alumni of Langara's Professional Photo-Imaging Program were granted top awards at a gala celebrating British Columbia's best photographers earlier this month.  
The accolades came at the 67th annual Professional Photographers of Canada (BC) Awards. Two current students were honoured alongside five Langara alumni, including one who was named as Professional Photographer of the Year.   
Second-year student Kezia Nathe led the pack, winning Best Portrait and Best Commercial in the student category, as well as Student Photographer of the Year. Kezia was also awarded the Jan de Haas Memorial Trophy for Most Creative Image, which is chosen by the judges from all categories, student and professional alike. It is the second year in a row that the award has been granted to a Langara student, following Christoph Prevost's win last year – the first time the Memorial Trophy was ever granted to a student.  
Langara alumnus Chester Goosen was chosen as Professional Photographer of the Year from a field of 12 nominees, four of whom were also College alumni: Brian K. Smith and David and Danny Custodio, all from the Professional Photo-Imaging Program, and Paul Wright, a graduate of Langara's Continuing Studies Photography program.  
First-year student Jan Snarski was also recognized with a Judge's Choice Award.  
To round out the achievements, the Alvin Schaffer Memorial Trophy for Best Image by a Langara Alumni was awarded to David Custodio, and Photo-Imaging instructor Dave Scougal was presented with his Craftsman of Photographic Arts designation at the awards banquet.
"We are extremely happy for the students' accomplishments," said Scougal. "Their commitment to excellence is rewarded by their recognition by the judges."
The winning images will move on to judging at the national competition, in Saskatoon later this month.
Learn more.
Annie Mullins
Communications Officer
Communications & Marketing Services
T 604 323 5058
amullins@langara.bc.ca