Feb 27, 2012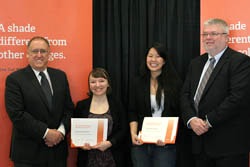 Left to right: Ross Munro, Kate Hunc, Frances Huang and Dr. David Ross. Photo: Jen Oehler

Vancouver, BC – Food service company Chartwells has announced that it will grow its endowment for scholarships and bursaries at Langara College to $500,000 by 2020. The commitment will nearly double the endowment currently in place, and will see an increase in awards for students grow from an annual distribution of $5,500 to $10,000 over the next eight years. The announcement was made at a ceremony on February 27th.  
Two new awards were established through the endowment: the Chartwells Nursing Excellence Awards and the Chartwells Awards of Excellence. Company president Ross Munro was on hand to distribute the inaugural Nursing Excellence Awards to students Kate Hunc and Frances Huang, who have achieved near perfect cumulative grade point averages in their program.  
"It's a thrill for me to be there," said Munro. "Langara and Chartwells have shared a very special relationship always, and one of the mandates that Langara has had for our relationship is giving back to students. That is exactly the way we feel – that we must be continually giving back to students. I am just thrilled with the calibre of the young people that these scholarships are able to assist."  
Accepting her award Huang said: "I just wanted to thank everyone at Chartwells and Langara, and everyone in our department for all of their support. This is a new scholarship, and I'm really grateful to be one of the recipients of it. It's a great honour."  
Hunc added: "I really appreciate the recognition, and the contribution this makes to my academic funding. It's a big help, and I think this is a great thing that Chartwells is doing."  
Each of the students accepted a $500 cheque from the Chartwells endowment towards their studies.  
Chartwells, a division of Compass Group, has been in partnership with Langara as its food service provider since 1997. Through regular contributions to student financial assistance the company has already endowed two scholarship funds: the Chartwells' Bursary and the Chartwells' Nutrition and Food Services Program Bursary.  
College President David Ross spoke at the ceremony to thank the food service company for their endowment.  
"We're here to celebrate a partnership that started back 15 years ago in 1997 when Chartwells joined the Langara family," he said. "This support continues to build today, and we're pleased to announce that Chartwells is continuing to grow their endowment program here at Langara. I'd like to take this opportunity to thank Chartwells. Thank you for your support, and on behalf of the students I'd like to thank you for all the years of support you've given them and the awards you've provided."
About Langara College
Langara College, located in beautiful Vancouver, BC, Canada, provides University, Career, and Continuing Studies programs and courses to more than 23,000 students annually. The College's expansive academic breadth and depth allows students to choose their own educational path.

Learn more.
Annie Mullins
Communications Officer
Communications & Marketing Services
T 604 323 5058
amullins@langara.bc.ca