Feb 23, 2012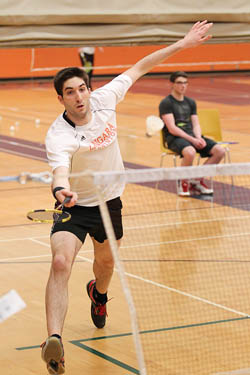 Luke Couture competes in the PACWEST Badminton Provincial Championships over the weekend. Photo: Andrew Snucins.
Vancouver, BC – Langara College congratulates student athlete Luke Couture, winner of this weekend's badminton provincial championships and this week's Pacific Western Athletic Association (PACWEST) "Athlete of the Week".  
Luke dominated the men's singles category at the PACWEST Badminton Provincial Championships this weekend, beating out Douglas College's Bob Sharma in a hard-fought three-set final to secure the gold. He also helped lead his team to a bronze medal finish in the overall team tournament, which was held at Thompson Rivers University in Kamloops.  
The Langara Falcons star, a student in the College's Bachelor of Recreation Management Program, will now represent Team BC at the Canadian Collegiate Athletic Association (CCAA) National Badminton Championships in March.
Luke, who is originally from St. John, New Brunswick, was congratulated on the award by Falcons badminton coach Marc Petreman.  
"We're very proud of Luke and all he's achieved this season," said Petreman, who was also honoured over the weekend by being named as "Coach of the Year" by PACWEST. "He's worked incredibly hard – probably harder than any other athlete in the conference."  
Luke, who trained five or six days a week to hone his skills this season while keeping up his schoolwork, will be accompanied at the National Championship by teammate Alisa Young, who took home a silver medal in the women's singles contest at the provincial tournament.  
"Luke's extremely fit, and he wins because he perseveres and has a great attitude," added Petreman. "He runs other players down until they're extremely tired, and he's always strong at the end of a match."  
About Langara College
Langara College, located in beautiful Vancouver, BC, Canada, provides University, Career, and Continuing Studies programs and courses to more than 23,000 students annually. The College's expansive academic breadth and depth allows students to choose their own educational path.

Learn more.
Annie Mullins
Communications Officer
Communications & Marketing Services
T 604 323 5058
amullins@langara.bc.ca