Feb 16, 2012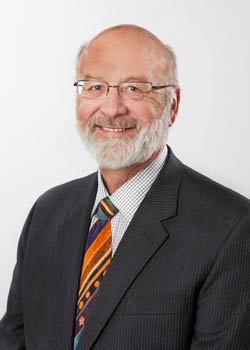 Langara Vice-President Academic and Provost Dr. Martin Gerson
Vancouver, BC – Langara College congratulates Vice-President Academic and Provost Dr. Martin Gerson, who has been honoured with an international award for leadership.
Dr. Gerson has been named as the recipient of the 2012 Idahlynn Karre International Exemplary Leadership Award by The Chair Academy, a collegial organization dedicated to advancing academic and administrative leadership skills in post-secondary institutions worldwide. The award is given to individuals who make a significant contribution to academic and administrative leadership in their work.
The announcement was greeted warmly by Dr. Gerson's colleagues, who lauded him as "the definition of collegiality."
"Martin has been a key player in making Langara what it is today," said Margaret Heldman, Langara's Dean for the Faculty of Science. "Our Academic area has looked to him for many years, relying on his leadership to create opportunities for students through innovative programing and to encourage faculty to engage in innovative classroom practice and professional development."
Dr. Gerson's career at the College has spanned a remarkable 38 years. After receiving his Ph.D. in Mathematics from Simon Fraser University in 1974 he became an instructor at Langara, eventually being named as Chair of the Mathematics and Sciences Division. He would move on to serve as a Dean of Instruction for 16 years before being named as a Vice-President Academic and Provost in 2009.
"I'm completely surprised and humbled by this honour," said Dr. Gerson. "Langara has been an amazing place to work and, after my family, the most meaningful thing in my life. There are so many wonderful, creative, people working at Langara, all completely passionate about their work, about Langara, and about the importance of what we do to make the lives of our students so much better."  
"Martin's high quality of work results from creating an environment in which others are empowered – everyone counts in Martin's world," added Heldman, who has worked with Dr. Gerson for more than 20 years. "He is well known to many, many people at Langara, and throughout the post-secondary system, after years of exemplary leadership in both areas." 
The award will be presented to Dr. Gerson at The Chair Academy's 21st Annual International Conference, in Atlanta, Georgia, on March 28th. The Academy was launched in 1992 with a vision "to advance academic and administrative leadership for post-secondary institutions globally."

Learn more.
Annie Mullins
Communications Officer
Communications & Marketing Services
T 604 323 5058
amullins@langara.bc.ca