Feb 10, 2012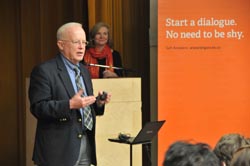 Dr. David G. Myers speaks on "The Scientific Pursuit of Happiness" at Langara on February 9, 2012.
Vancouver, BC –A keynote lecture on "The Scientific Pursuit of Happiness" attracted a crowd of hundreds to Langara College last night.  
The talk, delivered by eminent social psychologist Dr. David G. Myers, addressed factors surrounding our understanding of what it is to be "happy" – including relationships, religious faith, wealth, gender, and a variety of character traits. More than 350 students and members of the community attended the lecture, which was held in Langara's Newberry Hall.  
Dr. Myers, who has written numerous articles and books on the subject of happiness, explored a variety of studies and statistics to address questions including: Who is happy? And why?  
The event was organized in partnership between Langara's Psychology Department and Worth Publishers. Jennifer Poole, Department Chair of Psychology at Langara, said the keynote was "an exciting and absorbing presentation of ideas."    
Dr. Myers received his Ph.D in psychology from the University of Iowa. He has spent his career at Hope College, Michigan, where he has taught dozens of introductory psychology sections as the John Dirk Werkman Professor of Psychology. Myers's scientific articles have, with support from National Science Foundation grants, appeared in more than two dozen scientific periodicals, including Science, American Scientist, Psychological Science, and American Psychologist. In addition to his scholarly writing and his textbooks for introductory and social psychology, he also digests psychological science for the general public. His writings have appeared in three dozen magazines, from Today's Education to Scientific American. He also has authored five general audience books, including The Pursuit of Happiness and Intuition: Its Powers and Perils.
View the whole lecture online.
Learn more.
Annie Mullins
Communications Officer
Communications & Marketing Services
T 604 323 5058
F 604 323 5680
amullins@langara.bc.ca