Jan 17, 2012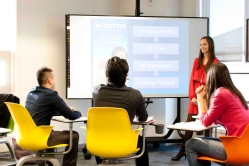 Student Emma Munro delivers her Co-op presentation in the Learn Lab. Photo: Jennifer Oehler
Vancouver, BC, January 11, 2012 – A cutting-edge tech classroom designed to enhance collaborative learning was debuted at Langara College this week. The "Learn Lab", the first facility of its kind in a Lower Mainland post- secondary, has opened in Langara's new Student Engagement Centre.

Designed to be a "mediascape" as well as a classroom, the highly flexible space is home to 20 mobile desks that allow users to move themselves and their workspaces easily into different configurations during learning and working sessions. These units can be organized around four display stations – a standard projector and screen, a Polyvision smartboard and projector, and two flat screen televisions. What makes the Learn Lab so special, though, is the technology that is used to organize the equipment. A singular presenter can control all four stations centrally, or, alternatively, control of the displays can be given to anyone within the room who is connected via a laptop.

"We're really excited to have this new collaborative learning facility available to our students, faculty, and staff," said Ian Humphreys, Langara's Associate Vice-President of Student Development and Marketing (Acting). "It provides a wonderful opportunity to explore how new technologies can be used to support student work. I believe we are the first post-secondary institution in the Lower Mainland to pilot the Learn Lab concept, and we are proud to be the home for this facility."

The Learn Lab also features traditional whiteboards with a "Copy Cam" image capturing system. The system, which does not require the use of a computer, enables the instant capture of notes or drawings created through collaborative work in the classroom, with the simple press of a button.

The facility was trialed by students in the College's Bachelor of Business Administration Program, who were delivering presentations on their Co-operative Education terms. Emma Munro, who delivered a presentation on her work placement at Vancouver's Wonton Communications, said, "I really like the mobile desk and chair combinations – all classroom seating should be like this. I can definitely see future classrooms being organized in this manner."

"The technology in this room makes it so much easier to present information, and to work in teams," added student Cheyenne Gwa'amuuk, who presented on her Co-op experience setting up a small business – Cheryl's Trading Post in White Rock.

The creation of the Lab was influenced by a variety of case studies on different work environments, from classrooms to hospitals and places of business, conducted by workspace design company Steelcase. The goal of the dynamic facility is to provide an environment that incorporates sophisticated technology in a clean and simple manner, to keep up with evolving methods of collaborative working.
About Langara College
Langara College, located in beautiful Vancouver, BC, Canada, provides University, Career, and Continuing Studies programs and courses to more than 23,000 students annually. The College's expansive academic breadth and depth allows students to choose their own educational path.
Learn more.
Annie Mullins
Communications Officer
Communications & Marketing Services
T 604 323 5058 F 604 323 5680
amullins@langara.bc.ca