Sep 12, 2011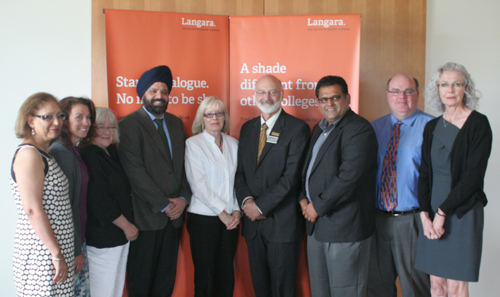 (L to R) Sukhdev Grewal, Patricia Woods, Janine Lennox, Daljit Singh Gujral, Deanna Douglas, Martin Gerson, Ajay Patel, Roy Daykin, Margaret Heldman
Vancouver, BC, September 8, 2011 – Langara College has signed a Memorandum of Understanding (MOU) with INSCOL Academy, one of India's leading healthcare service providers, to offer the first-ever Post Graduate Certificate in Nursing Leadership and Management for International Nurses in Western Canada. A signing ceremony was held on August 30th to celebrate Langara's new international partnership.
"We live in a global environment and professions like nursing are changing in order to meet the needs of evolving communities," says Ajay Patel, Division Chair, Health Sciences at Langara College. "Programs like the Post Graduate Certificate in Nursing Leadership and Management for International Nurses enable Langara to reach out to the international community for education beyond our traditional offerings and deliver new learning opportunities, experiences, and benefits to Langara students, faculty, and stakeholders."
"INSCOL's new partnership with Langara is special in many ways," says Daljit Singh Gujral, Managing Director of INSCOL Academy. "We're thrilled to partner with a leading prestigious college like Langara, which is strategically located in beautiful British Columbia in close proximity to a large Indian diaspora and offers a strong, vibrant academic support system for our aspiring nursing students."
Students from India who enroll in the new certificate program and successfully complete the credential will develop their leadership and managerial skills, allowing them to advance their careers when they return to India. They will also benefit from exposure to the rich, expert knowledge of Langara's nursing faculty.
For Langara students, the program represents a unique opportunity to engage with an international community of nursing students and gain perspective on global healthcare issues and experiences. The additional funding created through the new program will also enable Langara to purchase equipment and increase classroom capacity.
At the institutional level, the partnership agreement provides a successful model for Langara to augment and grow its credential offerings and enhance its reputation in Canada and abroad.
Established in 2003, INSCOL Academy is the education division of INSCOL Hospital, one of the leading healthcare service providers in Chandigarh, India. The Academy offers exclusive opportunities to Indian nurses to become global nurses and enhances their knowledge, skills and professional conduct as well as their exposure to best international nursing practices. INSCOL has partnership agreements with five Canadian institutions, including Langara College, as well as 11 other institutions within the United States, Australia, and New Zealand.
Media Contact:
Yvonne Ohara
Manager, Communications & Marketing
604-323-5014
yohara@langara.bc.ca
Learn more.
Langara School of Nursing