Aug 17, 2011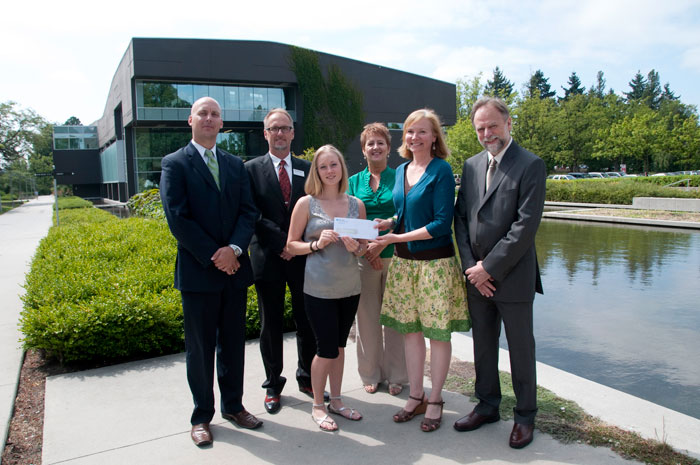 (L-R) Matthew Chelsom, District Manager, Vector Marketing; John Belshaw, Dean, Faculty of Social Science & Management; Jenny Bellows, Sales Representative/Branch Manager Vector Marketing, Langara student; Joanne Komoski, Department Assistant, Advancement; Jennifer Poole, Department Chair, Psychology; Ian McBain, Division Chair, Social Sciences & Business
Vancouver, BC, August 17, 2011 - University-transfer student Jenny Bellows has found a passion in Psychology. Not only is she majoring in the subject and will be entering SFU in January, she recently donated $1,000 to the Langara department – making it her second donation in less than a year.
All this is made possible due to Bellows' job as a sales representative and branch manager with Vector Marketing Canada, a company that specializes in high-end kitchen tools and cutlery. Each quarter, the company compares sales records from representatives across Canada and rewards the top leader with a $1,000 scholarship and another $1,000 to donate to a non-profit of his/her choice. Bellows was top leader for two quarters in a row and has gifted her $1,000 each time to the Psychology department.
"I've always found psychology to be a very interesting subject that can be easily applied to all aspects of life," said Bellows. "I wanted to donate the $1,000 to a department where the students were clearly there to help others, and I feel the psychology department fits that criteria very well. I hope to own my own private practice in the future after completing my masters."
"The recognition, income, advancement, and opportunities that Vector provides you with is endless," added Bellows. "I feel very fortunate to have found a company that I have been able to grow this much, put myself through school financially, travel, and meet great people.  Being the number one student in sales in Canada, two semesters in a row, feels amazing. I'm so grateful to be able to give back to the school which has taught me so much thus far."
Bellow's donation will be used to provide financial aid to Langara students enrolled in psychology courses as part of the Norm Carsley Memorial Psychology bursary.
The Psychology department and Langara thanks Bellows for her generous donation!