Mar 17, 2011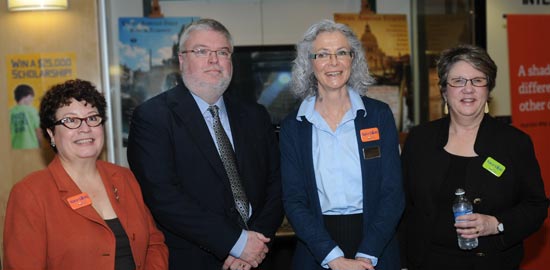 Vancouver, BC, March 17, 2011 – Langara was pleased to have Dr. Moira Stilwell, MLA Vancouver-Langara, open the Math & Science Open House yesterday. The event is held annually at the College to promote science and math courses at the post-secondary level, and to educate students about careers in those specific industries. In particular, this year is special as the government of BC named 2010/2011 the Year of Science.
"We are proud to provide funds for the Math & Science Open House at Langara as part of the Year of Science," said Dr. Stilwell, also Parliamentary Secretary for Industry, Research and Innovation, to the Minister of Jobs, Tourism, and Innovation. "Science is about creative spirit and inspiration – about developing new knowledge – and the ability to turn knowledge into new and improved goods and services demanded by the global marketplace. We know that young workers who understand Math and Science have the brightest futures."
Open to high school students, Langara students, and the community, the Math & Science Open House featured a Chemistry and Physics Magic Show and lab tours. Each department (Biology, Physics, Chemistry, Computer Science, Mathematics, Engineering, Astronomy) offered students opportunities to learn and speak with faculty members.
"We were delighted to have Dr. Stilwell join us at our Math & Science Open House this year," said Dr. David Ross, President and CEO of Langara. "It is vital for Langara to explore and foster innovation with current and potential students, as they will one day be our leaders in math, sciences, engineering, and technologies."
Led by the Ministry of Jobs, Tourism, and Innovation, the Year of Science's goal is to engage British Columbians, especially young people, in science by showcasing how science works, who scientists are, the kinds of work they do, and why science matters in the everyday lives of our communities.
For more information about the Year of Science, please visit www.yearofscience.ca.
About Langara College
Langara, located in beautiful Vancouver, BC, Canada, provides University, Career, and Continuing Studies programs and courses to more than 23,000 students annually. The College's expansive academic breadth and depth allows students to choose their own educational path. For more information, visit www.langara.ca.
-30-
Reference:
Yvonne Ohara
Manager of Communications and Marketing
604 657 1636
news@langara.bc.ca