Feb 22, 2011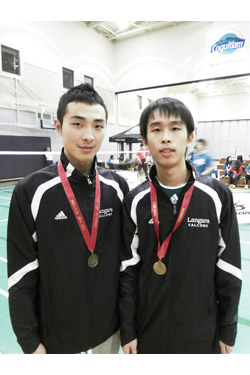 Pierre Tang and Chris Chung led the Falcons men's badminton doubles team to victory after executing a perfect round robin this season to capture the Provincial Championships (BCCAA Gold Medal). The pair went into their last tournament as the underdogs and were seeded third place. However, hard work and perseverance definitely paid off.
Tang and Chung are now training for the CCAA National Championships to be held in New Brunswick at Mount Allison University on March 3 to 5, 2011.
 "Going into the competition, I didn't think we had much to lose," explained Tang, Human Kinetics student. "Our mindset was to battle for second place. However, we ended up winning it all. This will definitely give us some confidence going into the Nationals."
"Before the match, I didn't think we would win," added Chung, second-year Arts student. "We ended up playing so well that we won the match! I was very surprised. This is my first time going to the Nationals, and I am excited to be participating. I would like to say thank you to the team for their continued support."
Tang and Chung played five solid matches to secure the Provincial Championships. First game was against Capilano University, where the pair convincingly won 21-7, 21-9. They then encountered a slight hurdle facing Vancouver Island University, losing the first set 17-21, but picked themselves up winning the next two sets 21-9, 21-5.
They went on to beat the season's undefeated team from Douglas College (Darren Hong/Rey Luo) 21-10, 24-22 in a hard fought game. With momentum on their side, Tang and Chung then won the last two matches 22-10, 21-10 versus Kwantlen University, and 21-16, 21-15 against Thompson Rivers University, to win gold.
Watch this space for updates on Tang and Chung's trip to the Nationals!
For more information about the Langara Falcons and our Athletics department, please visit www.langara.bc.ca/athletics
Learn more.
Jake McCallum
Director, Athletics and Intramurals at Langara College
604-323-5421
jmccallum@langara.bc.ca