Jan 24, 2011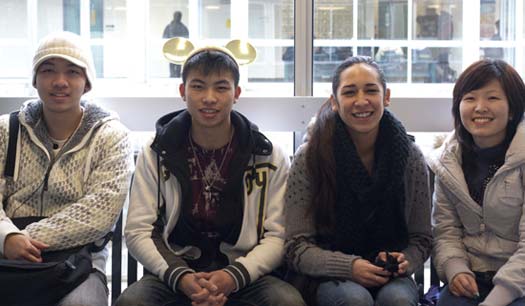 L-R: Terence Yee, Wesley Lai, Tai Van Patter, Clarissa Ishak. Regrets: Wenbo Xu.
Five Langara College students are on their way to "The Most Magical Place On Earth" for "an experience of a lifetime." Clarissa Ishak, Wesley Lai, Tai Van Patter, Wenbo Xu and Terence Yee are the first flight of students accepted into the new Disney World Field School.
The program is a partnership between Langara College, Disney International Programs and the University of California, Riverside (UCR). It offers a unique opportunity for students to gain valuable international work experience at the Walt Disney World ® Resort in Florida. Students enrol in two weeks of academic coursework at UCR, and then embark on six months' supervised, paid training at the resort.
For the successful applicants, the chance to add 'Disney' to their resumes was irresistible.
"I applied to the program to get experience working outside Canada," said Terence, an International Business Management student whose role at the resort is costuming. "There are certain courses that aren't taught here at Langara and I think the international experience will make a difference when I apply for jobs."
Clarissa, a Computer Science student who is responsible for front desk duties at the resort, hopes to emerge from her Disney work experience with valuable contacts and ultimately "work at Disney or its affiliates."
For Tai, the program is not only a "good opportunity to work with children"—something she has always wanted to do and will get to do as a lifeguard at the resort—but also allows her to earn credits toward her Langara studies.
All students taking part in the program are well supported for the duration of their academic and on-site training. Through courses and hands-on work, students acquire the tools they need to compete effectively in today's job market. They also gain maturity and new perspectives in leadership, diversity and personal and professional development. When students successfully complete the program, they receive a UCR certificate in either Management or Hospitality & Tourism Management. The courses taken are transferable back into Langara.
For Wesley, who is taking on dual roles in fast food beverage service and merchandising, his reasons for enrolling in the program are simple:
"I'm doing it for the experience and a better future."
And here we thought it was the chance to wear Mickey Mouse ears. Congratulations to all the students participating in this year's program!
For more information about the next intake of applications for the Disney World Field School, contact Gayleen Wren at gwren@langara.bc.ca or visit Langara College Co-operative Education.