Jan 21, 2011
Tournament gives young women an opportunity to showcase their skills and earn scholarships
Vancouver, BC – Langara College is proud to host the fourth annual Telus Vancouver Girls' Basketball Challenge. The tournament, which takes place January 20 to 22, 2011, features the top eight high school basketball programs in Vancouver - four public (VSSAA) and four independent (LMISSAA). It provides a venue for young women to develop their skills in a competitive and spirited setting.
This year, the participating teams include Kitsilano Secondary, Britannia Secondary, Point Grey Secondary, Prince of Wales Secondary, York House, St Patrick Regional, Crofton House, and Notre Dame Regional.  The girls will also take part in a three-point shooting contest.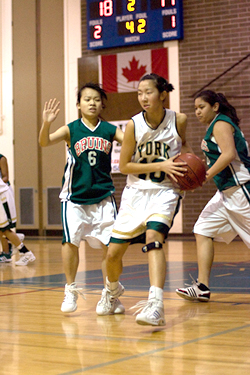 "We look forward to hosting the Vancouver Girls' Basketball Challenge for the fourth year in a row," says Jake McCallum, Acting Director of Athletics and Intramurals at Langara. "Since the tournament's inception in 2008, Langara has seen talented girls' basketball players enter the court each year. Many go on to play at colleges and universities, which is why we are happy to encourage their development as student athletes with two $1,000 Langara scholarships."
Past participants who have gone on to play at the post-secondary level include Roya Assadi (McGill University), Jesseca Eng (Concordia University), Jannifer Palma (Capuano University), Jennifer Jue 
(Thompson Rivers University), Rae Marisse Laijee (Trinity Western University), Chantelle Robertson (Concordia University), and Langara Falcons' very own Nadja Jankovic.
Several prominent members of the basketball community and its supporters will take part in the closing ceremony, including the guest speaker Howard Kelsey, the Executive Vice President of Canada Basketball.
For more information or to view up-to-date scores and team rosters, please visit www.vgba.ca.
About the Vancouver Girls' Basketball Association
Founded in 2008, the Vancouver Girls Basketball Association started the Vancouver Girls' Basketball Challenge in an effort to offer a sustainable basketball program for high school girls who live in Vancouver. The program provides opportunities for girls to develop basketball skills, sportsmanship, and a love for the game. For more information, please visit www.vgba.ca.
Contact:
Jake McCallum
Acting Director, Athletics and Intramurals at Langara College
604-323-5421
jmccallum@langara.bc.ca