Jan 13, 2011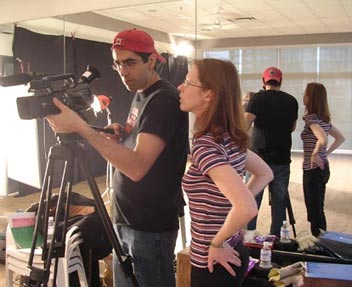 The Digital Film Production (DFP) program is proud to announce the launch of its inaugural 96-hour short film competition in March. The event's goal is to advance the progress of DFP students and alumni by providing opportunities to make and publicly screen their finished works. To be considered, entrants must submit a script from January 28 to February 11 and have it chosen to be filmed for the competition.
Program coordinator and contest judge Annat Kennet is excited about the opportunity to show 
off the talents of Langara's film students. "There is so much talent passing through the Digital Film Program that we wanted to give current students and program alumni an opportunity to 
showcase their work in any genre, possibly win a prize, and have a broadcast screening. It's also about having fun."

There are three prizes up for grabs with the winning team receiving $1000. The theme is "sustainability". To be considered for the competition, each team must have at least one current student or alumni from the DFP program. Six teams will be selected based on their script submissions to compete against each other. Pre-production and the actual 96-hour production will take place in March. Screenings will take place April 10 on campus.
For full contest details, rules, and how to enter, visit the official contest website.

Learn more.
Annat Kennet 
Program Coordinator
Langara Digital Film Production Program
604.323.5561
akennet@langara.bc.ca
www.langara.bc.ca/creative-arts/digital-film
View the competition poster