Apr 27, 2010
Kathryn Shaw, Artistic Director of Studio 58 at Langara College, is the recipient of the 2009-2010 Association of Canadian Community Colleges (ACCC) Bronze Teaching Excellence Award.
While this prestigious recognition took Shaw by surprise, it was unanimous among students and colleagues that it was well-deserved. Shaw's tenacious commitment to world-class training and her gift for training student actors to become artistically-and technically-seasoned professionals has earned her a prominent reputation in the theatre community.
"I was surprised and pleased when I was nominated for the award. Thunderstruck would best describe my reaction when I found out I had actually been chosen the recipient," says Shaw. "My thanks go to Sandy Biggerstaff and Langara College for supporting me in this meaningful way.  It is great to know that my years of dedication to training actors and theatre artists has been recognized nationally with the ACCC Bronze Teaching Excellence Award.
Armed with a Bachelor in Dramatic Art from Whitman College and a Masters in Fine Arts in Acting from the School of Arts At Columbia University, Shaw has been at the helm of Studio 58 for more than 25 years. As a result, Studio 58 has flourished to become one of the finest acting and production training programs in North America.
If lasting impressions on students can be a measure of teaching excellence, this award has been well-earned.
"I've known Kathryn for over 10 years now and in that time, I've seen her significantly impact hundreds of students," says Anita Rochon, Studio 58 alumnus. "She has a keen eye for intelligence and truth in theatre."
Roy Surette, Artistic Director and Executive Director of Centaur Theatre in Montreal, Quebec, was an acting student in Shaw's class 32 years ago and echoes the sentiment.
"Her sense of observation and astute ability to dissect our work was astounding," says Surette. "Kathryn has maintained the highest standards and yet she has embraced the ever-changing practices that keeps the theatre vibrant, current and timely. A standing ovation is definitely in order."
The award will be presented at the ACCC Annual Conference in Niagara Falls in early June.
Congratulations, Kathryn!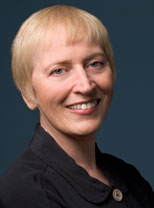 Learn more.
Association of Canadian Community Colleges
Studio 58