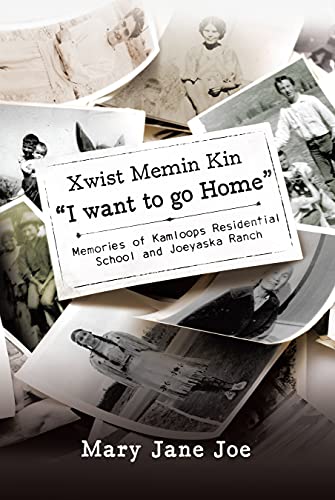 Mary Jane Joe, Nk'xetko, is a member of the Interior Salish Ntle'kepmx Nation near Merritt BC, and Elder-in-Residence at snəw̓eyəɬ leləm̓ Langara College. Nk'xetko is a survivor of the Kamloops Residential School. In 2021, she published an autobiography entitled, Xwist Memin Kin "I WANT TO GO HOME", Memories of Kamloops Residential School and Joeyaska Ranch. Over the years, Nk'xetko has received many questions about life at the school in Kamloops which inspired her to recount her experiences and stories of the 12 years that she spent there. Meet the Author is an opportunity to hear the behind-the-scenes stories and to ask questions about the book.
About Nk'xetko
Nk'xetko holds a B. Ed. and M.A. in Educational Studies and has taught First Nations and Aboriginal Studies for over 18 years with NITEP/UBC and Langara College. She has also worked within British Columbia's public education system with Indigenous Artists and educators to bring Indigenous peoples' history, traditional teachings, and perspectives into classrooms.
Paperback copies of Nk'xetko's book will be available for sale ($20.00, cash only). Those interested in purchasing a copy are asked to bring exact change.
---
Event Information
Tuesday, September 27
1:00 pm–2:30 pm
T Building, T Gallery
Registration required.
---
Event Registration
Content Advisory: We ask that when registering for this event, participants take into consideration the content and to consider their own capacity in hearing it. Supports will be made available for participants who may be affected by what is presented. For additional information visit our resources page. Or, if you have any questions or concerns, please contact the Centre for Intercultural Engagement.
---
Interested to learn more? Check out the additional resources available here.