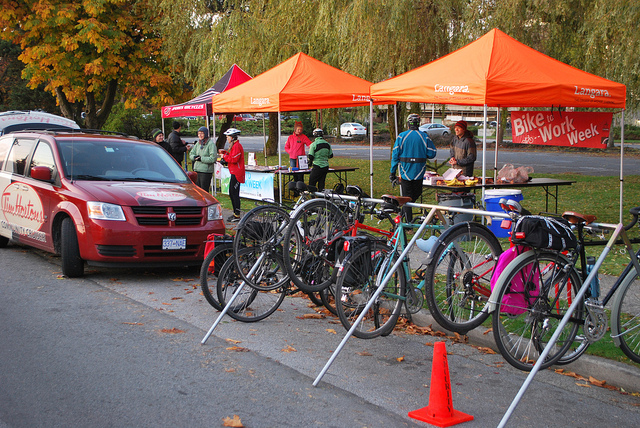 Langara College Celebration Station along Ontario Street (2018)
Be part of the change to make Metro Vancouver a happier healthier place.
Commute via bicycle to campus, work, appointments, anywhere and everywhere from Sep 27-Oct 3!
Students: Start your own team by visiting bikehub.ca. 
Employees: Join the employee team at bikehub.ca/registration.
Langara College Knowledge HUB
Stop by the Langara Knowledge HUB (previously called Celebration Station) along the Ontario Street Bikeway at 50th Avenue on Septemer 28 from 8:00–10:00 am and 4:00–6:00 pm for refreshments, goodies, and prizes! All cyclists are welcome.
Go by Bike Week is organized by HUB, Your Cycling Connection, whose mission is to get more people cycling more often.
Reasons to Ride
Save money by not driving
Cleaner air: reduce GHG emissions
Exercise: burn calories for fitness
Improve physical and mental health