| | |
| --- | --- |
| Date: | Jun 21, 2021 |
| Time: | 12:00 AM - 11:55 PM |

June 21 is National Indigenous Peoples Day. Although we are not able to come together and celebrate in person this year, we are excited to invite you to participate online. All are encouraged to participate in the following programming:
Share your story
Leading up to National Indigenous Peoples Day, we want to highlight and feature our amazing Indigenous employees and students, and their contributions to snəw̓eyəɬ leləm̓. If you would like to share your story and have it shared on Langara's social media channels, please fill out the Feature Form.
---
June 15–July 13 | 2:00 pm–3:15 pm | Summer Book Club | Sign Up 
Indigenous Education & Services and the Langara Library will be facilitating discussions on the graphic novel, A Girl Called Echo by Katherena Vermette, Scott B. Henderson, and Donovan Yaciuk.
All students are welcome. Attending all sessions in this five-part series is strongly encouraged, but not required. Registration is limited, so sign up early.
---
June 22 | 12:00 pm–1:00 pm | Talking Circle | Sign Up
We invite you to join our virtual Talking Circle, guided by Elder-in-Residence, Nk'xetko on June 22 from 12:00 pm–1:00 pm. In a talking circle, all are equal and belong. The intention of a talking circle is to open hearts to understand and connect with others; they encourage dialogue, respect, and the co-creation of learning and social discourse.

What you can expect should you join:
It is respectful to introduce oneself before speaking.
It is important that the circle of people listens respectfully to the person speaking.
The person speaking should speak from the heart and shared communications are kept in confidence, especially when someone shares something personal.
In its simplest form, a talking circle is:
Done in a complete circle.
Only the individual "holding" the talking stick, eagle feather, or other symbolic item speaks while all the rest listen.
The item is passed around in a circular direction, a person speaks until they are finished, being respectful of time.
The talking circle is complete when everyone has a chance to speak.
A person may pass without speaking if they so wish.
What is said in the circle stays in the circle.
---
June 23 | 4:30 pm–5:30 pm | Story Time | Sign Up
Join Tsitsayxemaat Rebecca Duncan as she shares her Indigenous knowledge and experience. 
About Tsitsayxemaat Rebecca Duncan: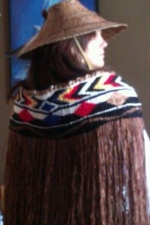 Tsitsayxemaat Rebecca Duncan is of Squamish and Musqueam descent of the Coast Salish Peoples. Rebecca has devoted her life to preserve the Squamish language, Salish weaving, and cultural teachings that have been handed down to her from her late Papa, and his Papa, and so on, and so on, since the beginning of time.
Rebecca specializes in cultural activities including Language Games (TPR), Traditional Song & Dance, Traditional Cooking, Weaving, Traditional Health & Wellness, Storytelling, and History.
Rebecca has performed worldwide promoting language and culture, representing Coast Salish people and practicing protocols with song and dance, workshops in schools including all the traditional activities, and building healthy relationships with the world!
No matter where you are from, it is so important to know your history, your culture, and your ties to the land.
U Siyam
---
July 13 | 3:00 pm–4:00 pm | Tea at Three | Sign Up
Come to Tea at Three with Elder-in-Residence, Nk'xetko. This is an opportunity to ask questions and learn about Indigenous culture, traditions, and history. This informal virtual meet up is open for students and employees.
---
Resources from the Langara Library
Self-study Guide for Reconciliation
This guide highlights introductory resources for members of the snəw̓eyəɬ leləm̓ Langara community who are seeking to educate themselves about:
Indigenous culture, language, and worldviews, with a focus on Musqueam, upon whose land the Main College campus is located
The impact of settler colonialism on the Indigenous peoples of present-day Canada, and Indigenous resistance, resilience, and resurgence
Ways to support decolonization and reconciliation in personal and professional contexts moving forward
Featured Books List: National Indigenous History Month
---
Stay Connected Online
Follow @LangaraGatheringSpace on Instagram for event updates, important resources, and more. Celebrate with us by using the hashtags #NIPD #NIPDCanada #NIHM2021 #LangaraCollege.
---
If you have any questions please email indigenous@langara.ca.