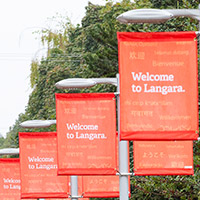 Coming to Campus?
Need to come to campus? Plan ahead. Please read our guidelines for Step 3 (effective July 1, revised with mask mandate on August 25, 2021) in accordance with our Return to Campus plan. 
What to prepare before you come on campus (each time you visit):
Bring a mask - they are mandatory in indoor public spaces. BC's mask mandate & Mask Guidelines
Ensure you do not have any COVID-19, cold, or flu illness symptoms.
Continue monitoring your health, and if you are sick, stay home and get tested.
All visitors are responsible for the following.
Masks are mandatory in indoor public spaces. Please note: mask-wearing does not exempt you from maintaining careful social contact.
Following health and safety guidelines, such as engaging in careful social contact and washing your hands when entering and exiting a building. You can wash your hands (20-30 sec) in the washrooms nearby or with hand sanitizer (20 sec) at one of the hand sanitization stations.
FAQs
Do I need a smart card to access buildings?
As of Jul 1, smart cards will no longer be required to access buildings. For more information on what the Langara student ID (smart card) is used for, and how to request one, please visit our
Photo ID page
.
What if I get sick or develop symptoms while I'm on campus?
If you develop symptoms while on campus, please contact one of the following and alert them of the situation: 
Your instructor

Security Services (604.562.1011 or the Security Office, located across from the bookstore)

Health Services (604.323.5256)
You will be directed to a designated isolation room for further assessment and next steps.