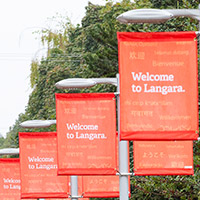 Coming to Campus?
Need to come to campus? Plan ahead. Please read our guidelines below, which have been developed in accordance with current provincial health regulations. 
What to prepare before you come on campus (each time you visit):
Bring a mask - they are mandatory in indoor public spaces. BC's mask mandate & Mask Guidelines
Ensure you do not have any COVID-19, cold, or flu illness symptoms.
Continue monitoring your health, and if you are sick, stay home and get tested.
All visitors are responsible for the following.
Masks are mandatory in indoor public spaces. Please note: mask-wearing does not exempt you from maintaining careful social contact.
Following health and safety guidelines, such as engaging in careful social contact and washing your hands when entering and exiting a building. You can wash your hands (20-30 sec) in the washrooms nearby or with hand sanitizer (20 sec) at one of the hand sanitization stations.
---
Health & Safety Updates on Campus 
Langara College continues to maintain and monitor the many rigorous health and safety measures we've put into place the past year. These include:
Regular cleaning and disinfection, including nightly sanitization of high traffic areas 
Highly advanced HVAC (air filtering) systems with digital dashboard to control our entire system in real-time and ensure everything is working as it should.  
Health & safety reminders online and on-campus.
More recently, in alignment with PHO advice, we have also: 
Removed all in-person events for the time being
Reduced seating in common spaces 
Help keep our community safe by following health and safety protocols including wearing a mask at all times including in classrooms/labs, and getting your vaccination if able.