Intro to Massage Therapy Courses
Langara's 2-day Introduction to Massage course has two learning options to choose from:
face-to-face (in person on campus) 
remotely on-line 
Taught by experienced RMTs, learn to give a basic relaxation massage using Swedish techniques. Learn to properly drape clients and use correct body mechanics. Students have two attempts to complete this course.
REGISTER by calling the CS Registration Office at 604.323.5322.
NOTE: All students must have access to a laptop or digital device to complete the course. For in-person classes, laptops must be brought to class on both days.
Requirements for on-line student registration include the following:
must register a minimuim of 4 days before the course start on Saturday. Late registration not accepted
access to a hands-on practice client for the entire weekend. The client must give verbal video consent to be viewed in practice and testing sessions
reliable continuous internet, and webcamera (on smart phone or tablet) with speaker capability in order to view and submit videos to instructors
computer to access your account through the Langara login page in order to complete the final quiz on an on-line platform
access the Zoom video program via your device
The Introduction to Massage course is a required pre-requisite for your application package to the CS RMT Diploma program.
Langara accepts successful completion of a two full-day "Introduction to Massage" course (minimum 12 hours) from other RMT schools in BC. This course must be completed within 18 months of the RMT application submission.
Please click on the Introduction to Massage course tab (+) below for dates.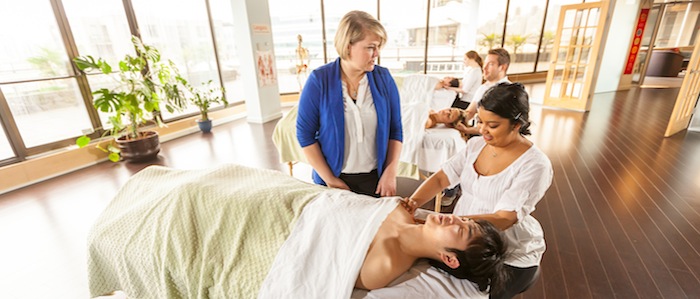 Courses
Langara's 2-day Introduction to Massage course has two learning options to choose from: -face-to-face (in person on campus) -remotely on-line Taught by experienced RMTs, learn to give a basic relaxation massage using Swedish techniques. Learn to properly drape clients and use correct body mechanics. Students have two attempts to complete this course. REGISTER by calling the CS Registration Office at 604.323.5322.NOTE: All students must have access to a laptop or digital device to complete the course. For in-person classes, laptops must be brought to class on both days.Requirements for on-line student registration include the following:-register a minimum of 4 days before the course starts on Saturday-access to a hands-on practice client(s) for the weekend-reliable internet, and web camera (smart phone etc.) with speaker capability-laptop/tablet to access your Langara computer account through the Langara login page -access the Zoom video program via your device
CRN
Duration
Starts
Time
Instructor
Cost
Location
60074
1 wknd Sa/Su
Jul 17, 2021
0900-1700 Online
Niki Jung,
Cora Van Wyck
$310
Online
60075
1 wknd Sa/Su
Aug 14, 2021
0900-1700 Online
Kaelin Beriault,
Niki Jung,
Cora Van Wyck
$310
Online
70215
1 wknd Sa/Su
Sep 18, 2021
0900-1700
Kaelin Beriault,
Niki Jung,
Cora Van Wyck
$310
CS-Broadway Campus

(Map)

70216
1 wknd Sa/Su
Oct 16, 2021
0900-1700
Kaelin Beriault,
Niki Jung,
Cora Van Wyck
$310
CS-Broadway Campus

(Map)

70217
1 wknd Sa/Su
Nov 13, 2021
0900-1700 Online
Kaelin Beriault,
Niki Jung,
Cora Van Wyck
$310
Online
70218
1 wknd Sa/Su
Dec 11, 2021
0900-1700
Kaelin Beriault,
Niki Jung,
Cora Van Wyck
$310
CS-Broadway Campus

(Map)