Intro to Massage Therapy Courses
The Introduction to Massage course is a required prerequisite for the CS RMT Diploma program. Langara accepts successful completion of a two  full-day "Introduction to Massage" course (minimum 12 hours) from other RMT schools in BC within 18 months of the course completion.
Please click on the Introduction to Massage course tab (+) below for dates.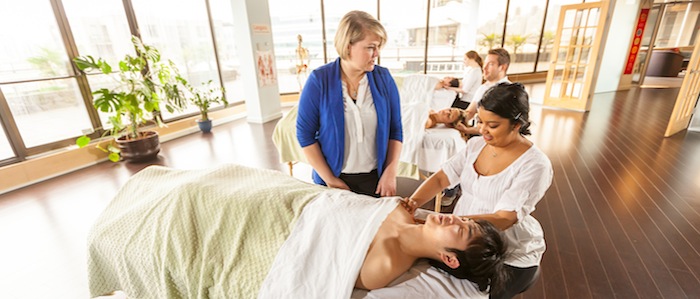 Courses
Designed for those pursuing a career in massage therapy, and those with a general interest in massage. Learn how to give a basic relaxation massage in this 2-day weekend workshop. Taught by an experienced Registered Massage Therapist, you are introduced to topics such as: proper massage table set up, client draping, body mechanics and basic Swedish massage techniques.NOTE: Students have two attempts to complete this course.NOTE: To register, call the CS Registration Office at 604.323.5322. NOTE: Students with an open ICBC accident claim are not eligible to take this course. Please wait until your claim is resolved, and your health is stabilized.
CRN
Duration
Starts
Time
Instructor
Cost
Location
50071
1 wknd Sa/Su
Apr 27, 2019
0900-1700
Gemma Oropesa,
Erika Sutcliffe,
Martin Williams
$310
CS-Broadway Campus

(Map)

60026
1 wknd Sa/Su
May 25, 2019
0900-1700
Martin Williams
$310
CS-Broadway Campus

(Map)

60036
1 wknd Sa/Su
Jun 08, 2019
0900-1700
Dawn Leonard
$310
CS-Broadway Campus

(Map)

60037
1 wknd Sa/Su
Jul 06, 2019
0900-1700
Dawn Leonard
$310
CS-Broadway Campus

(Map)