Overview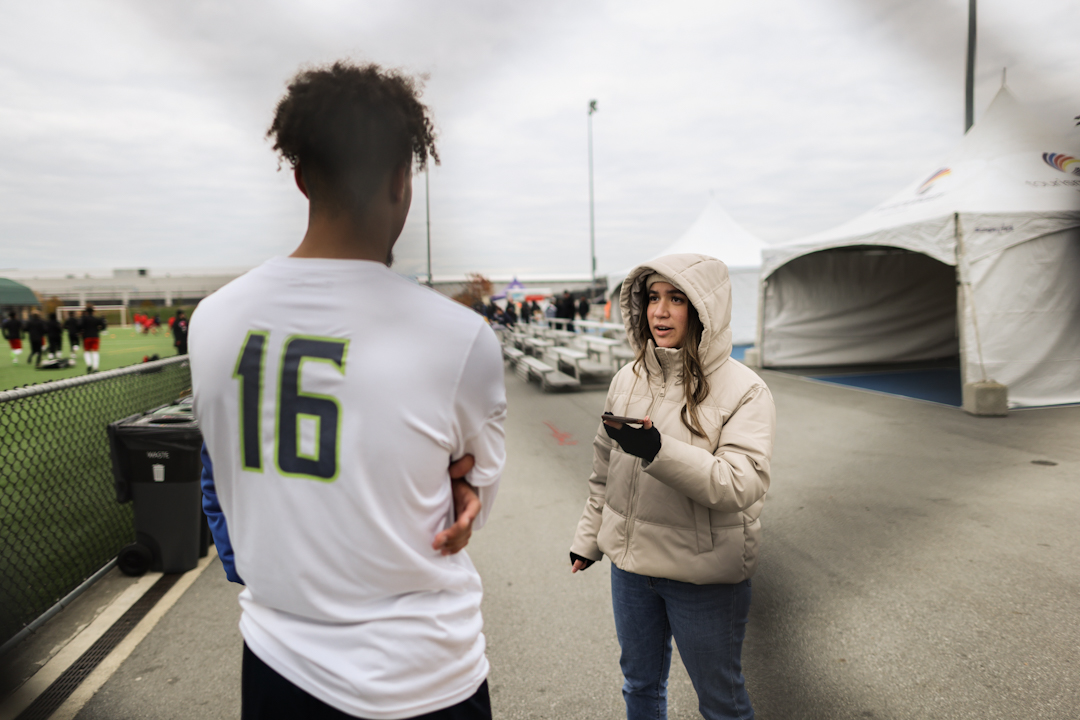 Langara Journalism programs (2-year Diploma or 1-year Certificate) have been refreshed to suit students interested in journalism and communications. Delivering valuable and credible information requires a unique set of skills, including in-depth research, creative and multi-platform storytelling, and knowledge of how the media industry works. These changes are significant and comprehensive, taking into account changes in the industry and better preparing students for the range of career options available to journalism and communications professionals.  
---
Where our grads are working within 5 years of graduating:
Communications Co-ordinator
Ideaspace, Vancouver
Reporter, Castanet
Communications Specialist
Emily Carr Institute of Art and Design
Reporter and Editor, Mugglehead Magazine
Manager, Marketing and Communications
International Economic Development Council, Washington, DC
News researcher and writer, CKWX
Communications and Sponsorship Manager
Silver Star Mountain Resort
Reporter, CKWX
News Writer, Global News
Marketing Director
Producer, Global News
Digital Media and Communications Co-ordinator
B.C. Care Providers Association
News Writer, CBC
Communications Officer, Rome, Italy
World Food Programme
Reporter, Global News
Communications Specialist, Copywriter
Proper Propaganda 
Reporter, Black Press
Communications Advisor
Canada Border Services Agency
Reporter, Glacier Media
Communications Manager, Field Hockey Canada
Producer, CKNW
Public Relations & Communications Specialist, London, UK,
The Mayor of London's promotional agency
Investigative Reporter, Glacier Media
Copy Writer    
Where our grads are working within 10 years:
 News Anchor, Global News
Multimedia marketing consultant Black Press
Producer, Global National
Content Writer, CapitMedia, Montreal
Copy Writer, Globe and Mail
Assistant Brand manager with Mark Anthony Group
Owner of Media Production Company
Freelance writer at Lester Communications

Copywriter at Page 7 Communications

News Anchor, CKWX

Writer/Editor Nuchalnath Tribal Council

Communications Lead, IBM Canada Lab, Ottawa

Communications, B.C. Ministry of Attorney General

Investigative Reporter, Globe and Mail

Communications, Cruise Lines International Association

Photojournalist, freelance

Communications, District of West Vancouver

Online Producer, CTV

Communications, B.C. Finance Ministry

Finance Writer, Native Ads Inc

Communications Coordinator, Douglas College

Public Relations Executive, Bright Horizons, UK

Communications coordinator, Cycling B.C.

Copywriter/Account Coordinator, Captus Advertising

Writer/Editor, North Island College

Communications Specialist, B.C. Ferries

Communications Manager, CIHR Canadian HIV Trials Network

Communications, B.C. Care Providers Association

Communications, Vancouver Airport Authority

Senior Manager, Copy and Brand, Hudson's Bay

Marketing, Willowbrook Shopping Mall

Copywriter, Yellow Pages

Web Content Manager, Ledcor

Marketing Manager, Save Your Skin Foundation

Product Content Copywriter, Future Shop

Communications Writer, Fuseforward (Vancouver)
---
Why study journalism at Langara?
Apply

›