Jul 18, 2018
View the Continuing Studies 2018 Fall Guidebook online.
BONNIE LANGMAN | STUDENT SUCCESS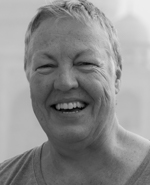 After a long career as an accountant, Bonnie Langman is spending her retirement travelling the world through our educational travel programs and exploring her creative side, particularly through photography.
"I have been interested in photography for decades," she says. "Photography really makes you think about what's in front of you, what's important about it and how to best capture it."
Bonnie began taking photography courses at Langara because her day job left her little outlet for artistic expression. Beyond the tools and techniques she mastered, the courses motivated her to work harder at her photography than she would on her own.
"For the most part, I consider myself a landscape photographer," she says. "In India, almost everyone is open to having their pictures taken, so I became more of a street photographer."
When visiting Kluane National Park in the Yukon Territory, Bonnie found herself comparing the experience to being surrounded by crowds in Banff a few months earlier.
"Kluane was just as beautiful and there were very few other tourists," she recalls. "I remember standing at a viewpoint with panoramic views and the only people there were in our group."
While Bonnie has travelled on her own throughout Canada and the United States, she finds the idea of travelling to more distant locations somewhat intimidating. The Langara tours save her time on research and allow her to travel with a group of people who have similar interests.
"The educational travel programs all have a purpose," she says. "They aren't travel for travel's sake."
Bonnie recently returned from her very first painting tour, a trip through Tuscany. One of her retirement goals was to learn to paint and the trip offered plenty of inspiration.
"The best part of this trip was the eight days spent in the wooded hills of south eastern Tuscany," she says. "We had great views, olive trees, poppies, sheep with bells on, a pond with strange sounding frogs, and fabulous food."
Bonnie Langman's Pentax K-7 has taken a bit of bashing in her travels. This summer, she plans to attempt to replicate some of the many delicious pasta dishes she enjoyed in Tuscany.
About Langara
Located in beautiful Vancouver, B.C., Canada, Langara College provides University, Career, and Continuing Studies education to more than 21,000 students annually. With more than 1,700 courses and 130 programs, Langara's expansive academic breadth and depth allows students of all ages, backgrounds, and life stages to choose their own educational path. Langara is also known as house of teachings, a name given to it by the Musqueam people on whose unceded traditional territory the College is located.
Learn more.
Erin Anderson
Communications and Marketing
Langara College
604.323.5746
eanderson@langara.ca