Nov 12, 2017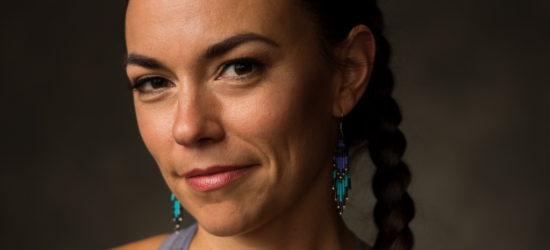 Langara College yoga instructor Jes von Henzke radiates strength. Part of that strength is physical – Jes is a power lifter as well as a yogi and a practicing registered massage therapist (RMT) – but much of it is mental. Over the past 15 years, Jes has been robbed at gunpoint, seriously injured in four car accidents, and experienced intense personal loss.
"A lot of the things that happened brought me to being a healer," she says. "It's so easy to get into a hopeless place, where you're wasting energy trying to figure out the why of everything."
A practicing yoga instructor when she enrolled in human kinetics at Langara, Jes soon switched into the registered massage therapy program thanks to her brother, who believed her gift for massage and intuitive nature would make her an excellent health care provider.
"Combining massage therapy with teaching yoga was a very natural evolution," says Jes, who now balances her RMT career with teaching yoga. "While massage therapy is a hands-on skill, it also incorporates therapeutic exercises and self-care, which is very prominent in yoga."
Despite the overlap between the two fields, the transition was not easy. As she adjusted to being a full-time student, Jes found support when a chance encounter with a family friend led her to the Gathering Space, a campus space for Langara's Aboriginal students. "
Having that community as a mature student really helped ground me," she says. "RMT is an academically and physically intensive program."
During the RMT program, Jes met Naseem Gulamhusein, who runs the Yoga Teacher Training Program. The two connected over a shared view of yoga as a holistic practice and when Jes graduated, Naseem asked her to join their program.
"Our instructors are upholding the tradition of yoga directly from India," says Jes. "We want our graduates to embody the practice, lead safe and effective classes, and elevate the profession."
When Jes started training as a yoga instructor, she suffered from panic attacks when leading a class. Overcoming her fear required her to face her own vulnerabilities and she believes that exposing our 'most potent selves' is a crucial part of the journey for both teacher and students.
"The thing about yoga is that peace doesn't come from being zen all the time," says Jes. "It comes from facing the turbulent seas of life, practicing radical acceptance of what is, and allowing yourself to see the beauty that rests in the present moment anyway."
Jes von Henzke is currently a practicing RMT at Fiskco Health + Performance and Rep1 Fitness. She believes yoga is a lifetime practice that offers new lessons each day.
View the Continuing Studies 2018 Spring Guidebook online.
About Langara
Located in beautiful Vancouver, B.C., Canada, Langara College provides University, Career, and Continuing Studies education to more than 21,000 students annually. With more than 1,700 courses and 130 programs, Langara's expansive academic breadth and depth allows students of all ages, backgrounds, and life stages to choose their own educational path. Langara is also known as house of teachings, a name given to it by the Musqueam people on whose unceded traditional territory the College is located.
Learn more.
Erin Anderson
Communications and Marketing
Langara College
604.323.5746
eanderson@langara.ca 
===
Jes von Henzke Cover Shoot
Photographer: Greg Blue
Asst. Photographer: Calvin Gehlen
Art Director: Chris Gunn
Producer: Erin Anderson