May 1, 2017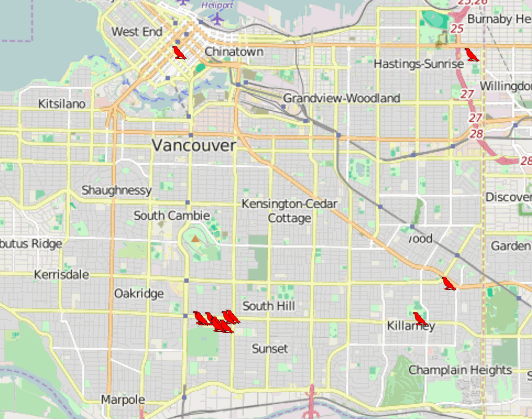 Vancouver, BC – Langara Continuing Studies instructors Rick Davidson and Jim O'Leary have re-launched an interactive map with some new features to track aggressive behaviour by crows.
CrowTrax is a user-generated map that pinpoints the location and severity of crow attacks in Vancouver.
Spring marks the start of nesting season for crows. From April to June each year, there is an increase in the number of crow attacks on pedestrians, as the birds work to protect their young. In 2016, CrowTrax had over 1,500 reports of crows on the map.
The map is an example of a Geographic Information System (GIS), which Davidson and O'Leary teach in Langara's Geographic Information Systems (GIS) Certificate Program.
"There has been tremendous interest in the CrowTrax map and the GIS technology behind the website," said Davidson. "GIS is used by companies as a way to tell a story and share geographic data - everything from finding directions to government emergency planning for natural disasters."
In the past year the GIS Certificate Program accepted students from multiple disciplines, including environmental and health sciences, archaeology, geopolitics, and engineering. O'Leary predicts a growing importance for the skills developed through GIS. "Most of our students are professionals who need GIS training to do their work. We look forward to serving the needs of these professionals through the program in the coming year."
Users who have been recently attacked by a crow can add it to CrowTrax and help develop an accurate representation of crow activity in Vancouver.
Registration for the GIS Certificate Program is now open; classes begin in May. For more information, visit www.langara.ca/geographic-information-systems. 
About Langara
Located in beautiful Vancouver, B.C., Canada, Langara College provides University, Career, and Continuing Studies education to more than 21,000 students annually. With more than 1,700 courses and 130 programs, Langara's expansive academic breadth and depth allows students of all ages, backgrounds, and life stages to choose their own educational path. Langara is also known as snəw̓eyəɬ leləm̓, a name given to it by the Musqueam people on whose unceded traditional territory the College is located.
Learn more.
Lynette Hawksley 
Communications Officer 
604.323.5058 
lhawksley@langara.ca