Mar 17, 2014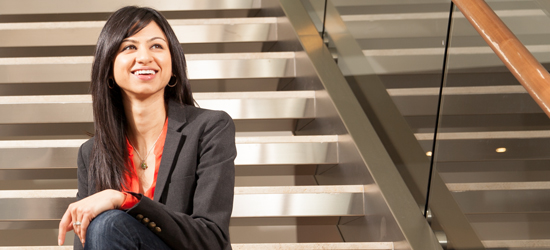 Vancouver, BC – I never thought that I would become a certified yoga teacher at the age of 29. Despite my love for yoga, becoming a teacher was something I thought I'd reserve for one day when I had more life experience. But becoming a teacher of yoga, has only deepened my understanding of the practice and how it weaves into the other parts of my life, allowing me to live more fully and with balance in a society of constant change.
The Continuing Studies Yoga Teacher Training Certificate program allowed me to truly connect with the practice. Many programs offered certification after 6-8 weeks, but Langara's program is creatively structured over six months, allowing me to integrate the teachings into my life and make a change. The program is designed to be holistic, supportive and change inspiring. It fosters a community of peers who support you through the transformational experience. The instructors are dedicated and take the time to get to know each and every one of their students, while creating a space to share individual obstacles and the emotional impact the experience can have on your day-to-day life.
Now I create my own daily yoga and meditation practice based on what I am feeling or need that day, helping me to better deal with the ups and downs of daily life. On a social level, I have a new found confidence with people. Connecting my healthcare profession with my love for yoga and spiritual growth has made such an impact on my life and exemplified what balance feels like. In so many ways my yoga journey has allowed me to better connect with all areas of my life. Who would have thought rolling out your yoga mat could do all that?
Sharmin graduated in February, 2012. Read about Expressive Arts Therapy Certificate graduate Matias Hacker here.

About Langara
Located in beautiful Vancouver, BC, Canada, Langara College provides University, Career, and Continuing Studies education to more than 21,000 students annually. With over 1,700 courses and 130 programs offered, Langara's expansive academic breadth and depth allows students of all ages, backgrounds, and life stages to choose their own educational path.


Learn more.
Naseem Gulamhusein
Program Coordinator
604.872.1613
ngulamhusein@langara.bc.ca
Mark Dawson
Communications Officer
Communications & Marketing
604.323.5702
mdawson@langara.bc.ca