Mar 17, 2014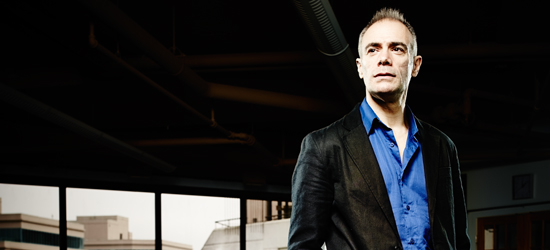 Vancouver, BC - Matias Hacker came to Canada 10 years ago, attracted by its multicultural diversity. He was looking to change his career. In Buenos Aires, Argentina, Matias was a professional actor-singer with the renowned San Martin Theatre. Matias wanted to stay close to the arts community while changing his focus: helping other people to find their own answers and engaging their imagination. That's when he discovered the Continuing Studies Expressive Arts Therapy Certificate program at Langara.
"Expressive Arts Therapy integrates different art modalities - visual arts, movement, drama, photography, creative writing - to allow participants to explore the process of art-making and engaging their imagination. Participants experience first, what they will ask their own clients to do later," said Hacker.
Matias was attracted to the 'hands-on' approach of the program, the resources that were available for graduates, and the support students receive in securing a practicum in their second year. After attending an introductory workshop and meeting Peta Schur, the practicum supervisor, and the Program Coordinator Ofir Gabay, Matias enrolled.
Matias, and some of his Langara colleagues, are now completing their master's degrees in Expressive Arts at the European Graduate School in Switzerland, an opportunity available to all graduates of the program. He looks back fondly on his Langara cohort. "My two years with them was something memorable, an experience of self-discovery that was only possible with the support of the group, and the peer supervision we offered each other. The warmth and empathy of the team were touching and allowed me to trust the process and enjoy it."
Matias is currently working with the Vancouver Association for Survivors of Torture (VAST), facilitating individual and group therapy for adults, youth, and children, often refugees and immigrants who have endured torture, trauma, and political violence. Matias also runs expressive arts groups for marginalized children in Surrey elementary schools.
Read about Yoga Teacher Training Certificate graduate Sharmin Hirji here.

About Langara
Located in beautiful Vancouver, BC, Canada, Langara College provides University, Career, and Continuing Studies education to more than 21,000 students annually. With over 1,700 courses and 130 programs offered, Langara's expansive academic breadth and depth allows students of all ages, backgrounds, and life stages to choose their own educational path.


Learn more.

Ofir Gabay
Program Coordinator
Expressive Arts Therapy
604.323.5925
ogabay@langara.bc.ca
Mark Dawson
Communications Officer
Communications & Marketing
604.323.5702
mdawson@langara.bc.ca