Testimonials
Debbie Clauss 
Class of 2010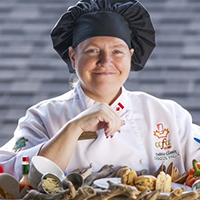 Debbie discovered her passion for culinary arts while working to pay for her education. In 2010, she graduated from Langara's Nutrition & Food Service Management program, where she became certified to craft menus to meet all dietary requirements. As a young chef, she was named Alberta's Apprentice of the Year, and continued to build momentum. In 2011, she was recognized as Southern Alberta Chef of the Year followed by Western Canadian Chef of the Year in 2012. In 2013, Debbie became the first woman to be named National Chef of the Year.
Debbie sits on several academic advisory committees, serves as the Canadian Culinary Federation Lethbridge Chapter President, and is Chair, Bylaws and Ethics of the Canadian Culinary Federation. She currently owns Cocoa Bean Cafe and TaDa! Catering near Medicine Hat. Debbie now has over 25 years of industry experience and takes great pride in watching her own apprentices grow their passions into careers.
"Langara provides a network for its students that extends beyond the course curriculum. While attending the program, I made long lasting friendships with the students and instructors, and being a part of the Langara family has been a great asset to my career."
---
Eric Evers
Class of 2007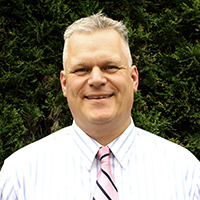 Following his term in the German army, Eric became a cook's apprentice in Cologne, Germany. He held various positions including journeyman cook, executive chef, and operations manager. After moving to Canada in 1998, he continued to work in the industry.
In 2006, Eric enrolled in the Nutrition & Food Service Management program at Langara College. The program built upon his experience, enabling him to manage a 200-bed complex care centre upon graduation.
Currently, Eric works for Aramark's Complete Purchasing Services, holds a degree in hotel administration, and is a certified German master chef. He is the past president and a current national director the Canadian Association of Food Service Professionals and national president of the Canadian Society of Nutrition Management for the 2017/2018 term.
"Without the program, I would not have been able to succeed and meet required regulatory standards as well as the expectations of my employer. I gained skills and knowledge that allowed for expansion of my professional portfolio as well as personal betterment."
---
Stephanie Ovsenek
Class of 2001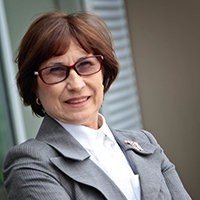 Stephanie enrolled in the Nutrition & Food Service Management program as a single mother with her career front of mind. Her dedication paid off when her practicum at the Vancouver General Hospital led to a job offer upon graduation. As a supervisor, she oversaw food service operations while managing a team of twenty staff.
In 2006, Stephanie spearheaded a program to train at-risk women for careers in food service at the Downtown Eastside Women's Centre. This led to a role with Families in Action, where she coordinated nutritious diets for childcare centres, implemented cost-saving practices, and trained community members to work in food service.
The following year, Stephanie became operations manager for Marquise Hospitality, overseeing a number of senior living and complex care units. Stephanie presently serves as multi- unit compliance and quality assurance manager for WestCana Services, and as president of the Pacific Society of Nutrition Management.
"Langara's Nutrition & Food Services Management program helps students enter the workforce with hands-on knowledge and the ability to achieve in strategic leadership roles. I can say with confidence that this program produces well-rounded and well-educated individuals who are driving excellence in this sector."
---
Kevin Poland
Class of 2014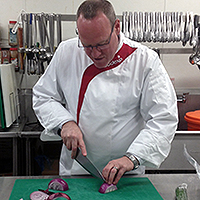 When Kevin enrolled in Nutrition & Food Service Management at Langara, he was seeking a career in long-term care. Working full-time while studying, Kevin created a business plan for a restaurant, and served as support services manager for an elderly care facility.
Kevin is currently general manager of food services at the University of the Fraser Valley, where he coaches staff and strategizes each stage of food service. From purchasing through to preparation and packaging, Kevin carefully analyzes critical control points along food's journey to the consumer, and uses a similar approach to improve the nutrition of the university's menu.
Armed with his knowledge, Kevin fulfills his passion for helping others by advising students who are health-conscious or have dietary concerns. His consultations have become so popular that UFV now markets his services to the entire campus.
"Students are full of questions and are very mindful of what kind of food they put into their bodies. They needed counseling, and I was the one they turned to. These are skills that I learned through my career, but mostly from my education at Langara College."
---
Susan Sleeman 
Class of 2003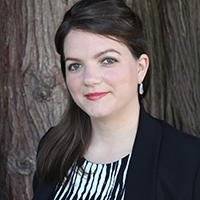 Susan always knew she had the potential to be a leader. Upon graduating from the Nutrition & Food Service Management program, she worked in residential care as a support services manager. Her continued advancement into more senior positions drove her to pursue further education.
After returning to Langara and completing her bachelor of business degree, Susan began working for a family-owned contract service provider that was seeking to enter the healthcare market. Susan combined her skills from the Nutrition & Food Service Management program with her business degree to successfully transition the company into acute and retail food services.
In 2013, Susan completed her MBA, and is now vice-president of SerVantage Services Group, which provides contract services to multiple industries in Western Canada.
"Langara's Nutrition & Food Service Management program has been a proponent of 'critical thinking' before that was a buzz word. Critical thinking is what creates great leaders throughout our profession. I attribute the foundation of my success to the Nutrition and Food Service Management program at Langara."
---
Valerie Smith
Class of 2016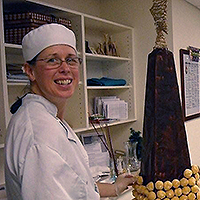 Valerie's career began as a cook aboard a steel-hulled salmon boat, which led her to pursue culinary arts at Malaspina College. After graduating with honours, Valerie worked as a ski instructor in Tasmania, helped open a café in Inuvik, NWT, and shared a drinking reservoir with grizzly bears at Knight Inlet Lodge, BC.
During the 2010 Winter Olympics, Valerie worked for Compass Group's Gourmet Cuisine division at the Molson House, which led to a management role during the 2011 Canadian Men's Open Golf Championship. Returning to the long-term care sector, she twice served as a temporary unit manager, but was hesitant to take on the role permanently. Eventually, her success in the job and steady encouragement from her supervisors led her to pursue the Nutrition & Food Service Management Program at Langara.
"I have gained insight and understanding that will help me become an effective manager. I better understand how to resolve issues through teaching, coaching and discipline, and I have discovered that I am capable of great determination."