Overview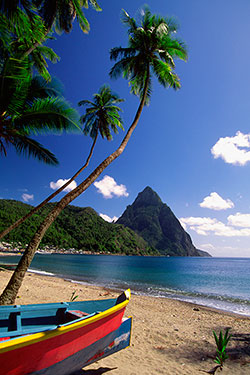 ***This field school is not currently available***
Not Just a Tourist Destination.
Discover the Land and Culture of the Caribbean
While many people associate the islands of the Caribbean with sun, sea and sand, they have a rich culture influenced by their geography and expressed in their literature.  This May and June, you could travel to Barbados, Dominica and St Lucia to learn about the interplay between land and people, environment and culture – and still spend time soaking up the sun on white coral and black volcanic beaches! 
Are you ready for adventure? 
explore the depths of Harrison's Cave, wending your way past stalagmites and stalactites
observe green monkeys at a wildlife reserve
swim with turtles* (optional)
swim up a gorge and jump off a small waterfall (jumping is optional)
sample traditional fare at Oistins Fish Fry
wander around colonial-era towns and shop in lively local markets
soak in a volcanic-heated river and natural hot spring pools
walk through the Valley of Desolation on the way to the Boiling Lake* (optional)
snorkel through "champagne bubbles" released by underwater volcanic fissures
join in the Friday night Jump-Up street party in Gros Islet
visit the world's only "drive-in" volcano
take a shower in a waterfall
slap on volcanic black mud and then soak it off in a hot spring river
climb one of the iconic Pitons* (optional)
watch a turtle lay her eggs on the beach (can't guarantee this one, but we'll try)
snorkel among brightly-coloured fish and coral in a marine reserve
watch the sunset on a catamaran cruise
* costs for these optional activities may not be included in the program fee, depending on exchange rates and participant numbers
Is there any funding?
Yes!  Students may qualify for study-abroad scholarships and/or student loans.  Please see the Travel Details page, contact us or contact the Financial Aid Office.
Please follow the link below if you are a student at another post-secondary institution or a new student. All applicants must also complete the Field Studies Program application form, available on the How to Apply page. 
Apply

›