*REMOTE LEARNING UPDATE*
As part of the College's COVID-19 response, the Langara IT Service Desk will be closed on campus. Support will still be provided remotely. Please continue to submit any AskIT tickets through our Knowledge Base.
If you have an urgent issue, please visit us at https://remotesupport.langara.ca/ to talk to a Service Desk technician.
How do I contact the IT Department?
Create an AskIT
For urgent issues, use our live support at remotesupport.langara.ca
If you are an instructor on campus with an issue impacting a live class please call the IT Service Desk at ext. 5999 
Visit us at the IT Service Desk located beside the Library entrance. The Service Desk in the Library will be closed for the Spring 2021 semester
Live Chat Support Hours
| Days | Hours |
| --- | --- |
| Monday to Friday | 8:00 am - 4:00 pm (Limited support* from 4:00 pm - 8:00 pm) |
| Saturday | 9:00 am - 5:00 pm (Limited support*) |
| Sunday | Closed |
*Note: Limited support means only one technician is available via chat. If the technician is not available, please submit a ticket via AskIT or contact Remote Support the next business day.


A/V Services Hours
Day
Hours
Monday to Thursday
8:00 am - 4:30 pm 

 (Closed 1:00 pm - 2:00 pm every Tuesday)

Friday
8:00 am - 4:00 pm
Saturday/ Sunday
Closed
Location
The IT Service Desk is located on the first floor of the Library, directly beside the entrance. 
Note: The IT Service Desk will be closed for the Summer 2021 semester. Please use one of the alternate methods of contact listed above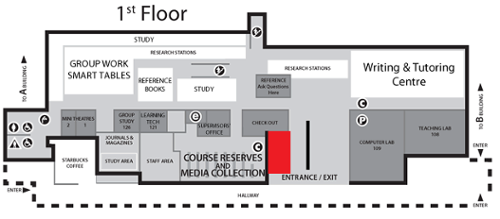 The A/V Service Desk is located in Room C265 of the C building, and is also accessible through the second floor of the A building.