Program & Tuition
Langara is set apart through its high standards, the comprehensive knowledge offered to its students, and its focus on client management. As a public post-secondary institute with research capability and a Research Ethics Board, Langara is the obvious choice for your massage therapy training.
The CS Diploma in Registered Massage Therapy Program is designed to prepare graduates to be independent, and successful health care professionals. Upon graduation you will not only meet but exceed the entry-to-practice requirements of the College of Massage Therapists of British Columbia (CMTBC). This accelerated, intensive, two-year, full-time program delivers curriculum beyond the standard in key areas such as Nutrition, Gross Anatomy Field Studies, Business Skills for RMTs, and additional manual therapies such as cranial sacral technique and visceral manipulation.
Langara's Diploma in Registered Massage Therapy is on the list of recognized schools in the CMTBC bylaws. Langara is accredited with the national accrediting body for massage therapy education in Canada, the Canadian Massage Therapy Council for Accreditation (CMTCA).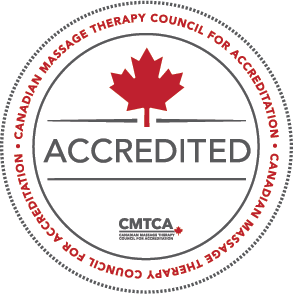 Program Highlights
BC's first public post secondary institution to offer RMT training
Additional course work in Cranial Sacral Therapy, Myofascial Release, Muscle Energy Technique and Visceral Manipulation
Gross Anatomy (cadaver) labs
Expanded curriculum in Business Practices for RMTs and Massage Therapy for Athletics
The RMT Program is eligible for domestic students applying for student loans
Application Deadlines for Sept, Jan and May intakes:

Refer to the Domestic Student page for application deadlines for domestic students and permanent residents
Refer to the International Student page for application deadlines for international students
Schedule: 2 years, full-time. Most classes are 8:30-4:30, Monday - Friday. Class days and times vary from semester to semester - some evening and/or Saturday clinics in Semester 3 - 6. Classes are held in-person in classrooms & Langara student clinic.
Langara does not offer a part-time RMT Program. 
 
Program Costs 
Tuition: 
$5051 CAD per semester; and there are 3 semesters per year.
Yearly cost is: $15,153 CAD in Year 1, and also in Year 2: $15,153
Tuition is paid by semester over the six terms and there is an International Supplemental fee that is paid in Year 1, and again in Year 2.
Estimated additional costs:
Books: approx. $2,500
Supplies: $1,300
Non-refundable Langara RMT Program application fee: $40 for domestic, and $155 for international.
Langara Student Union fees are mandatory for all full-time students.

Cost vary each term, and are approx. $1350 per year. 
Students receive an unlimited U-Pass, extended-medical benefits, and dental benefits.
All students, domestic and international, must have their own basic MSP coverage.
This course is required as a prerequisite for application to the CS Diploma in Registered Massage Therapy Program. Introduction to Massage Therapy courses offered by other RMT Schools in BC, including: similar content and a minimum 12 hours duration may be accepted. Students must submist appropriate documentation to confirm successful completion with their application to the RMT Program. The Introduction to Massage course must be completed within 18 months of the RMT application submission. Please contact the Program Coordinator if you have questions.