Programs
For more information, contact Rob Clark at 604.862.3953 or email Yasmin Virji at yvirji@langara.ca


Project management is one of the fastest growing disciplines in all sectors of business. Formal project management processes increase project efficiency by improving productivity, avoiding waste and reducing risk. Certified project managers are always in demand, all over the world, in all types of industries. 
With a specific focus on developing practical project management skills, the Project Management program at Langara College offers the opportunity to apply proven methods to projects within each participant's field of experience. The program is also designed for experienced project managers to improve their practical skills and prepare for the CAPM® certification exam.
The Project Management program includes the Short Certificate in Advanced Project Management.  
Project Management courses are conducted by certified Project Management Professionals who have extensive experience managing projects of various scales in many different industries.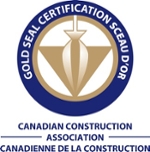 The Short Certificate in Advanced Project Management has been accredited for 25 special industry course (SIC) credits for education and training by the Gold Seal Accreditation Board. Individual courses can also be taken for SIC credits. To learn more about the Gold Seal Certification Program visit the CCA web site at goldsealcertification.com/certification-process 
WHO IS THIS PROGRAM SUITABLE FOR?
This program is suitable for anyone who would like to learn to manage projects better. You do not have to be in a project management job, although many of our students are working as project managers, supervisors, or project coordinators. It helps to have experience working on projects in some capacity so that you can put the learning into context, but it does not matter which industry you work in.
Past students have come from a wide range of backgrounds. They have included people without any experience managing projects, to people with more than 30 years' experience managing large, multi-year projects. Some students have little formal education, while others already have advanced degrees and their PMP® credential.
WHAT DOES THE PROGRAM COVER?
The purpose of our program is to provide you with practical skills covering all aspects of professional project management.
There are six individual courses in the Short Certificate in Advanced Project Management, excluding the PMP® Exam Prep course. 
Students do not need to apply for admission to the Short Certificate in Advanced Project Management for entry, and there is no admission or exam fee. Students register directly into each of the courses, and all of the courses are compulsory for Certificate completion.
The six courses may be completed uninterrupted over 14 weeks (in two terms), or over several terms up to a maximum of two years. Courses are designed to be taken in sequence, but they also can be taken individually in each term. The integration project comes last in the sequence in order to provide an opportunity for you to demonstrate that you have mastered all the skills taught during the program. 
You must also have a basic level of computer literacy, and you must have sufficient proficiency in English to communicate effectively and to demonstrate to the instructors what you have learned.
The Short Certificate in Advanced Project Management Courses in Required Order:
The Advanced Project Management courses have recently been revised to incorporate the most current practices in blended learning to improve interactivity, effectiveness and skill retention. We have added advanced Microsoft Project™ training throughout the courses to provide students with the skills to use almost any standard project management application.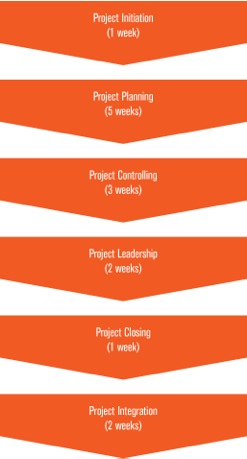 PROJECT INITIATION (12-15 HOURS)
Learn the terminology, processes and approach to formal project management.
PROJECT PLANNING (60-75 HOURS)
Develop valuable project planning skills by creating a comprehensive project plan.
PROJECT CONTROLLING (36- 45 HOURS)
Learn to perform and control projects efficiently and effectively.
PROJECT LEADERSHIP (24 - 30 HOURS)
Develop essential leadership and communication skills to manage project teams.
PROJECT CLOSING (12 -15 HOURS)
Learn to closeout a completed project or phase and how to implement continuous improvement for future projects.
PROJECT INTEGRATION (40 - 80 HOURS)
Apply the various concepts, skills, and experiences from all of the previous courses to a comprehensive, integrated project. This gives you the opportunity to work through the entire life cycle of an applied project, from initiation to closeout. 
This is the final course in the program and it includes the final exam.
Hours above includes assignment time. 
Scheduled course hours for the in-class courses include lectures with instructors, and individual or small-group student consultation, interaction and tutorial hours with instructors, delivered online, over-the-phone or in person. Textbook materials and MS Project license fees are extra (more information on these is provided on the first day of class).
Students can simplify their enrollment by registering into all six of the courses in the Certificate program as a block and complete the program in two consecutive terms. Please request a block registration for all of the courses if you prefer this option. 
The total cost of tuition for all of the courses in the Advanced Project Management Certificate program is $5,600. The cost is the same for the in-class and online learning formats. 


The Short Certificate in Advanced Project Management - Online
Take advantage of the freedom of distance learning and complete the full certificate from anywhere in the world. Learn the essential hard and soft skills necessary to be a high-performing project manager, and receive direct feedback, support, and guidance from a PMP®-certified instructor. 
The program schedule is identical to the in-class program.
A modular weekly learning schedule is used to teach the courses. The content of the modules includes readings, online videos, templates, exercises, and an assignment to help you learn the techniques, see how they are applied to a sample project, and then practice using the skills with a project of your own. Our program also makes use of discussion forums, blogs, wikis, group activities, and email to enable collaboration between you, the other participants, and the instructors. The instructors are also available by appointment for consultation by phone or online chat. Offline course work is also required.
Learn valuable, highly practical, and transferable skills...
using your project.
with your learning style.
on your schedule.
for your career.

"PMI", "PMBOK", "Project Management Professional", "PMP", "REP" and the PMI Registered Education Provider logo are registered marks of Project Management Institute, Inc
Credential Eligibility
To qualify for the certification, students must complete successfully all the required courses with a minimum C grade requirement. All requirements must be completed within two years of starting the program. Students can complete the program as quick as two terms.
Courses may be taken individually as long as individual course prerequisites are met. Students completing the certificate do not need to apply to the program as registration is by course. There are no academic requirements for students to start the program.

Students who began the program prior to September 2022 will have until August 2023 to receive a certificate credential. Students who began the program September 2022 onwards will receive a short certificate credential.