Program Itinerary
Proposed itinerary (subject to change)
January 14-25, 2019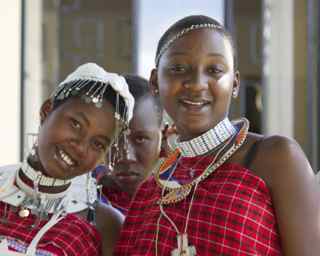 Photo provided by Boutique Safari
Day of arrival: Day 1- Airport and Transfer to Arusha

Arrive at Kilimanjaro International Airport
Transfer to hotel in Arusha
Rest, relax and acclimatize in your hotel after a long journey
Day 2 – Arusha – Market Photography and Countryside Photography
Short briefing after breakfast for a visit to Arusha's bustling main market
Lunch in a local Arusha restaurant
After lunch, depart for Maramboi Tented Camp
On the way, we pass by Maasai villages and small towns providing a fascinating perspective.
Day 3 – Tarangire National Park
Spend today exploring Tarangire National Park. First day of game driving in one of Tanzania's outstanding reserves
We will take our time and bring a lovely picnic lunch to enjoy at a picnic site in the park. Your first meal in the African bush!
After visiting Tarangire National Park, return to Maramboi Tented Camp for dinner and overnight.
Day 4 – Maramboi Tented Camp – Engaruka Maasai Village – Ngorongoro Farmhouse
Breakfast at Maramboi Camp
Experience the Maasai tribe, in an intimate and personal interaction that few tourists get
A day of cultural interactions in Engaruka village,a typical Masaai village
Stay at Ngorongoro Farmhouse; a small and exclusive hotel built on a 500-acre coffee plantation. A wonderful stop-off during a safari on the north circuit of Tanzania
DAY 5 – Ngorongoro Conservation Area to Serengeti National Park
Depart for Ngorongoro Conservation Area. The drive is incredible with amazing vistas of the Great Rift Valley
We enter the Ngorongoro Conservation Area and ascend to the exterior of the crater reaching its rim and here you take a wonderful glimpse of what has often been referred to as the "Eighth Wonder of the World"
Tanzania's oldest and most popular national park, also a world heritage site and recently proclaimed a 7th world-wide wonder, the Serengeti is famed for its annual migration. Enjoy a game drive along the way and arrive at your lodge in time late afternoon
Overnight at the Kati Kati Serengeti Tented Camp. In its comfortable tents, one will feel completely immersed in the surroundings and one can enjoy the rich animal life and vegetation of the area.
DAY 6 – Serengeti National Park 
Spend a full day in the truly incredible central Serengeti area with an all-day game drive, bringing a safari picnic with us
The drive will be in the area surrounding the Camp. We'll return to the camp in the late afternoon
Breakfast, safari picnic, dinner and overnight at the Kati Kati Tented Camp
DAY 7 – Serengeti National Park – Ndutu, Ngorongoro Conservation Area
After breakfast, depart the crater for the world-famous Ndutu area of the Ngorongoro Conservation Area, where the miracle of the wildebeest migration takes place
Your next three nights will be at the luxury tented camp ideally suited in the area where we expect the migration to be – the five-star Ndutu Under Canvas Tented Camp
DAYS 8 & 9 - Ndutu Region of Ngorongoro Conservation Area
Spend two full days in the truly incredible Ngorongoro Conservation Area and the Serengeti National Park with both morning and afternoon game viewing drives
Breakfast, lunch, dinner and overnight at the Ndutu Under Canvas Tented Camp each day (all beverages, including non-premium alcoholic beverages are included).
Day 10:  Ndutu to Ngorongoro Crater to Karatu
After breakfast, game drive through Ngorongoro Conservation Area. We will stop at various places for photographs of the amazing Ngorongoro Highlands and crater vistas
We will arrive at the town of Karatu for late afternoon lunch at Bougainvillea Lodge. Afternoon at leisure and you can enjoy a walk in the nearby coffee farms
Dinner and overnight at Bougainvillea Safari Lodge.
DAY 11 – Ngorongoro Crater visit
You will depart very early from the Lodge in order to be early into the crater. Descend to the floor of the crater and have an experience of a lifetime, as you watch the literary thousands of animals that Africa has to offer. The crater is the spectacular stalking ground of around 20,000 to 30,000 wild animals at any one time, the most densely packed concentration of wildlife in Africa
You will return to your lodge in the early afternoon so that you can enjoy the gardens, pool and relax
Crater brunch, Dinner and overnight at the Bougainvillea Safari Lodge. 
DAY 12 – Drive Arusha - lunch in town – Day room – Transfer to Airport
After a traditional breakfast, we depart for Arusha. We will stop to have a final goodbye lunch with the group at a local restaurant. It will be time to say an undoubtedly sad good-bye or "Kwaheri" in Swahili to your "Maasai family"
Breakfast at Bougainvillea Safari Lodge. Lunch in Arusha. Dinner and day rooms at Airport Planet Lodge. Transfer to Kilimanjaro International Airport.