Information Session Registration 
DATE: Thursday, April 1
TIME:  6:30pm - 7:30pm
LOCATION: Online (link will be emailed to registered attendees)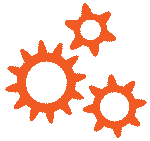 Loading...
Find your place in Vancouver's growing animation industry with our full-time diplomas in 2D and 3D animation. These intensive programs allow you to develop your animation portfolio under the mentorship of experienced instructors.
Bring your drawings to life through our 2D Animation and Digital Art Diploma Program. Learn character design, digital painting, cell animation and design as you develop a concept from storyboard to final product.
Is 3D Animation for Game, Film & Visual Effects more your style? Work with industry-standard software and hardware as you combine your technical skills and vision to build realistic 3D characters and environments.
For updates on events and admissions, join our mailing list.