Jan 27, 2021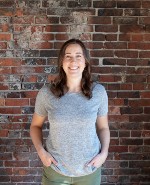 COURTENAY PLETZ | INSTRUCTOR
"I graduated from Langara's Registered Massage Therapy (RMT) program four years ago and I currently instruct once a week in the program's student clinic. With a comprehensive and demanding curriculum, the RMT program does a great job preparing students for what lies ahead in becoming a certified professional and working in health care. There is often a steep learning curve at the beginning of the program, especially in anatomy. It is amazing to see the students learn so much that the field soon becomes like a second language to them. Later on, students start to build on concepts and use clinical reasoning in the student clinic—that's when I come in to guide them through what a real-scenario RMT session is like and help them apply the theoretical knowledge they already have. I love working as an RMT professional, sharing my experience with students, and cheering them on every lesson learned." – Courtenay Pletz, Langara Continuing Studies RMT alumna and instructor.⁠
⁠
Learn more about Langara Continuing Studies' RMT program or explore our other program offerings at link in the bio. Registration for Spring 2021 is now open.
About snəw̓eyəɬ leləm̓ Langara College
Located in beautiful Vancouver, B.C., Canada, snəw̓eyəɬ leləm̓ Langara College provides University, Career, and Continuing Studies education to more than 23,000 students annually. With more than 1,700 courses and 130 programs, Langara's expansive academic breadth and depth allows students of all ages, backgrounds, and life stages to choose their own educational path. Langara is also known as 'house of teachings', a name given to it by the Musqueam people on whose unceded traditional territory the College is located. 
Learn more.
Lisa Tuyen
Communications and Marketing
Langara College
604.323.5107
ltuyen@langara.ca