Nov 13, 2019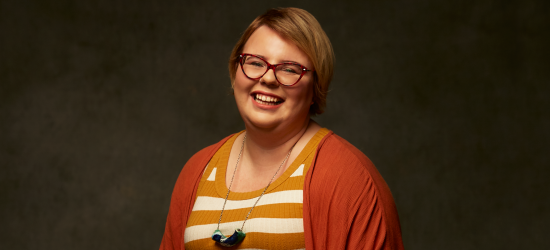 You might be surprised to find arts programming in a local brewery. Enter Heather Prost, Arts Programmer at Steel & Oak Brewing Co. Heather manages the community gallery space that shows works from artists from all walks of life, including those who are LGBTQ+, disabled, or living with mental health challenges. Heather is a facilitator, mixed media visual artist, and end-of-life doula; she is also an Expressive Arts Therapy student at Langara College.
"I want to help give people access to their imagination again. For some reason, when we grow up, our childlike urges to play and to imagine are shed. We take creativity for granted."
While studying Gender, Sexuality, and Women's Studies at Simon Fraser University, Heather co-created an initiative called ArtTHRIVE, a free arts-based workshop for survivors of sexualized violence. A conversation from a participant inspired her to explore therapeutic arts that evening – Langara's Expressive Arts Therapy program stood out to her.
"Seeing positive growth and self-love is inspiring. One thing healers often put aside is their own needs to heal. Helping others care for themselves is easy, but remembering to practice your own self-care can be challenging."
The Expressive Arts Therapy program, the first of its kind in BC, offers an arts-based approach to integrative psychotherapy training. It emphasizes working with the imagination using art modalities such as creative writing, drama, visual arts, theatre, and movement, to bring about healing and transformation.
In her practicum, Heather has the opportunity to select the demographic she wants to work with. She has decided to focus her work on hospice care, including working with terminal patients and supporting their families.
"I am a firsthand witness of how healing the expressive arts can be. I was able to make sense of my own trauma by engaging in expressive arts therapy. When you have the opportunity to bear witness to that, you're going to want to immerse yourself in it."
In her spare time, Heather enjoys interior design, and is a tropical plant enthusiast. She is currently taking care of 80 plants and documents their plant growth in various spaces in her home. Heather also enjoys spending time with her three cats Pearl, Eta and Burt.
View the Continuing Studies 2020 Spring Guidebook online.
Congratulations to Heather for also being a 49 Langaran award recipient.
About Langara
Located in beautiful Vancouver, B.C., Canada, Langara College provides University, Career, and Continuing Studies education to more than 21,000 students annually. With more than 1,700 courses and 130 programs, Langara's expansive academic breadth and depth allows students of all ages, backgrounds, and life stages to choose their own educational path. Langara is also known as house of teachings, a name given to it by the Musqueam people on whose unceded traditional territory the College is located. Langara is celebrating its 49th year on West 49th Avenue with Beyond 49, an integrated celebration, alumni engagement, and fundraising campaign to reconnect with alumni, and raise funds for student support and important College initiatives.
Learn more.
Lisa Tuyen
Communications and Marketing
Langara College
604.323.5107
ltuyen@langara.ca 
===
Heather Prost Cover Shoot
Photographer: Calvin Gehlen
Asst. Photographer: Michal Urbanek
Art Director: Chris Gunn
Producer: Lisa Tuyen
Makeup: Rae Pelat