Nov 13, 2019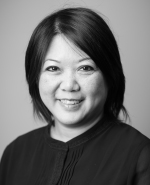 CATHY FUNG | STUDENT SUCCESS
Recently, Cathy Fung decided to go back to school as a mature student. She completed three certificate programs at Langara: Professional Bookkeeper, Computer Skills for the Office, and Advanced Administrative Assistant. Her goal was to improve and upgrade her computer skills, including developing skills in the areas of technology, management, and communication skills.
"The skills and knowledge that I gained from learning the new programs boosted my confidence and improved my efficiency at work. Not only that, since completing my three certificates last August, I've been approached by a couple of companies to work in their accounting department."
Cathy really appreciated that the classes she took had very flexible schedules, and that the class sizes were smaller. Also, the number of courses that she took on was rewarding and surprised her for a variety of reasons.
"I have been taking more than 20 courses during the past year. I was so proud of myself achieving higher marks than I had imagined. I definitely feel more motivated and enthusiastic to learn as a mature student, since this is practical knowledge that I know will translate into my future career."
One of the benefits of returning to school as a mature student is Cathy found that it was easier for her to contextualize her newfound knowledge; she can visualize and better understand how what she learns in class can be immediately applied to the workplace. This proves to be invaluable.
Currently, she is working as a bookkeeper at a corporation where she manages accounts payable and receivable. She is also responsible for processing invoices, reconciling bank transactions, and processing journal entries. She enjoys her work and finds it rewarding.
In her spare time, Cathy enjoys playing badminton weekly, reading, and watching movies. She also loves food and enjoys trying different cuisines and restaurants. Her favourite place to visit is Lonsdale Quay Market, as she enjoys playing tourist in her own city.
View the Continuing Studies 2020 Spring Guidebook online.
About Langara
Located in beautiful Vancouver, B.C., Canada, Langara College provides University, Career, and Continuing Studies education to more than 21,000 students annually. With more than 1,700 courses and 130 programs, Langara's expansive academic breadth and depth allows students of all ages, backgrounds, and life stages to choose their own educational path. Langara is also known as house of teachings, a name given to it by the Musqueam people on whose unceded traditional territory the College is located. Langara is celebrating its 49th year on West 49th Avenue with Beyond 49, an integrated celebration, alumni engagement, and fundraising campaign to reconnect with alumni, and raise funds for student support and important College initiatives.
Learn more.
Lisa Tuyen
Communications and Marketing
Langara College
604.323.5107
ltuyen@langara.ca