Jul 17, 2019
View the Continuing Studies 2019 Fall Guidebook online.
YI LI | INSTRUCTOR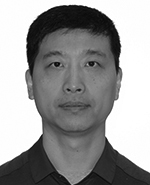 While working as a credit card specialist for eight years at Canadian Imperial Bank of Commerce (CIBC), Yi Li never could have imagined owning his own massage therapy clinic.
He found it quite challenging and with the closure of the Vancouver call center at CIBC, Yi decided it was time for a career change. He had many friends who worked in the medical field and this inspired Yi to find a career path that was related to helping people.
In 2014, Yi started Langara's Registered Massage Therapy (RMT) program. He was a top student in the program, and was hand-selected to tutor his peers. "Langara's continuing studies RMT program really changed my understanding about how a college as an institution can help an individual to achieve his or her full potential through career development," says Yi.
The RMT program far exceeded his expectations. It gave him the necessary tools to help others while launching a rewarding career. The small class sizes and practical hands-on training with highly skilled instructors made all the difference when transitioning to working in a real-life clinic setting. The RMT program gave Yi confidence in both his own abilities and those of his classmates to work in any clinical setting and provide effective and safe massage treatments for their clients.
 "The most valuable thing I learned at Langara is how to become a professional health care provider. As the first public post-secondary institution in BC to offer an RMT program, Langara's approach is unparalleled in academic and hands-on training," Yi told us.
After graduation in 2016, Yi trained at an RMT practice to gain experience and to build up his skills. He then opened up his own practice in 2017, Metro Therapeutics Massage Therapy Clinic. While still in the process of launching his website, he already has almost 600 patients and is often booked up two weeks in advance. He is also sharing his knowledge as an Instructor for Langara's RMT program.
In his spare time, Yi enjoys going to the recreational target shooting range with his friends. He also enjoys spending time with his family, especially his two daughters.
About Langara
Located in beautiful Vancouver, B.C., Canada, Langara College provides University, Career, and Continuing Studies education to more than 21,000 students annually. With more than 1,700 courses and 130 programs, Langara's expansive academic breadth and depth allows students of all ages, backgrounds, and life stages to choose their own educational path. Langara is also known as house of teachings, a name given to it by the Musqueam people on whose unceded traditional territory the College is located. Langara is celebrating its 49th year on West 49th Avenue with Beyond 49, an integrated celebration, alumni engagement, and fundraising campaign to reconnect with alumni, and raise funds for student support and important College initiatives.
Learn more.
Lisa Tuyen
Communications and Marketing
Langara College
604.323.5107
ltuyen@langara.ca