Jul 17, 2019
View the Continuing Studies 2019 Fall Guidebook online.
WAYNE KAULBACH | INSTRUCTOR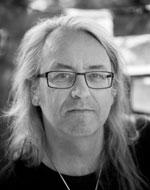 Wayne's Kaulbach's future career became clear to those around him when he was just nine years old. As his family watched him patiently wait 45 minutes for the CN Tower to align perfectly for the composition of his photo, a budding photographer was born.
He graduated with his Masters of Photographic Arts in 2004 and received his Fellowship in 2006 from the Professional Photographers of Canada. As an instructor at Langara College Continuing Studies for almost 20 years, he currently leads Educational Tours to Morocco, India, and Portugal. These places hold a very special place in his heart.
Having first visited Morocco in 1986 after hitchhiking through Europe, Wayne still describes the country as a feast for all your senses after returning many times over the years. Portugal is another of his favourite places to be and, after Vancouver, would be his top choice of somewhere to live. Since his first trip to India in 1986, Wayne has returned on seven other occasions and finds his breath taken away each and every time.
"Visiting the Taj Mahal is always an exercise in pure wonder. We make sure we arrive just before the sun comes up to avoid the crowds and experience that wonderful early morning light. Walking through the old market areas and being completely in the moment. Meeting local people, photographing them and hearing their respective stories is always a highlight of the trip," says Wayne.
Exploring India can be a bit overwhelming for an inexperienced traveler. In a country with over 1.3 billion people, traveling with a cohesive group of compassionate professionals can relieve stress, allowing for an unforgettable experience. Wayne loves sharing knowledge and his own travel experiences just as much as he enjoys learning from those he is traveling with.
"Every time I travel to these locations I connect with people within the group. We become like a tight knit family entity during these trips, and these people are indelibly etched into my memories. We have the opportunity to share the visuals and stories with one another, it's an exciting time, and I am fortunate to have many repeat travelers" says Wayne.
During Wayne's spare time, he enjoys traveling with his family, and embracing his love for street photography. He has visited over 40 countries and has been on four around the world trips. He is also a multi-award winning photographer and runs Skylight Images with his wife, Michelle Fleming. View Wayne's photographs on Instagram @wkaulbachphotography
About Langara
Located in beautiful Vancouver, B.C., Canada, Langara College provides University, Career, and Continuing Studies education to more than 21,000 students annually. With more than 1,700 courses and 130 programs, Langara's expansive academic breadth and depth allows students of all ages, backgrounds, and life stages to choose their own educational path. Langara is also known as house of teachings, a name given to it by the Musqueam people on whose unceded traditional territory the College is located. Langara is celebrating its 49th year on West 49th Avenue with Beyond 49, an integrated celebration, alumni engagement, and fundraising campaign to reconnect with alumni, and raise funds for student support and important College initiatives.
Learn more.
Lisa Tuyen
Communications and Marketing
Langara College
604.323.5107
ltuyen@langara.ca