Jul 17, 2019
View the Continuing Studies 2019 Fall Guidebook online.
KEVIN CREERY | STUDENT SUCCESS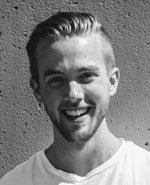 Kevin Creery has always been a performer. In high school, he thought his passion would lead him on the path to become an actor. In 2013, he discovered the world of electronic dance music – it was life-changing. He taught himself how to DJ and fell in love with the art. He knew right away that this was going to be his career.
Kevin started off learning how to make his own music using YouTube tutorials, but quickly realized that it wasn't for him. So, he started investigating program options and stumbled upon a review of the Digital Music Production (DMP) program at Langara College. The reviewer spoke about how the DMP program helped him achieve his goal to make commercially viable music – this is what convinced Kevin to take the DMP program.
"The most valuable thing I learned at Langara is music theory, hands down. Learning theory led to teaching myself how to play the piano, and has allowed me to work seamlessly with other artists and vocalists, whether it be remixing a song or working collaboratively." 
Even today, Kevin still shares his enthusiasm with people that he meets. "The DMP program blew away my expectations. I still speak very highly of it to this day. I went into it with little to no knowledge of music production. Now, when I compare the tracks I made before and after the program, I realize just how much I got out of it."
Kevin's time at Langara helped him understand that if he invests 100% of himself into something, he can make it happen very quickly. This has carried over into his personal life, and into his current music project, Wild Cards.
Kevin and his friend, Krystian Watts are the DJ/producer duo behind Wild Cards. Their biggest accomplishment so far is winning the 2019 iHeart Radio Remix of The Year for their remix of Khalid & Normani's Love Lies at Miami Music Week. They beat out some pretty big names in their category, including Calvin Harris and Skrillex, making the win an even bigger honour. Kevin's dedication and passion for music shines bright.
In his spare time, Kevin finds himself opening up Ableton on his laptop, doing what he loves the most: making music. He also enjoys spending time at the gym, hanging out with his friends, or indulging in his guilty pleasure - watching reality TV.
About Langara
Located in beautiful Vancouver, B.C., Canada, Langara College provides University, Career, and Continuing Studies education to more than 21,000 students annually. With more than 1,700 courses and 130 programs, Langara's expansive academic breadth and depth allows students of all ages, backgrounds, and life stages to choose their own educational path. Langara is also known as house of teachings, a name given to it by the Musqueam people on whose unceded traditional territory the College is located. Langara is celebrating its 49th year on West 49th Avenue with Beyond 49, an integrated celebration, alumni engagement, and fundraising campaign to reconnect with alumni, and raise funds for student support and important College initiatives.
Learn more.
Lisa Tuyen
Communications and Marketing
Langara College
604.323.5107
ltuyen@langara.ca