Mar 20, 2019
View the Continuing Studies 2019 Summer Guidebook online.
RUTH RAYMOND | SUCCESS STORY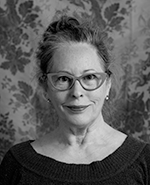 When Yukon tour participant Ruth Raymond saw the lights in the sky for the first time, she was mesmerized. "There it was! The Northern Lights! From that little arc, it spread and shimmered and danced for us. We clicked, fiddled with our cameras, made adjustments, and clicked some more."
Ruth is a retired writer who spent her 25-year career writing for newspapers and various publications in a number of sectors, including energy, medical, and forestry. Since retiring, she is pursuing a certificate in the Langara Continuing Studies photography program.
Ruth stumbled upon some information about the Yukon group trip, did some research, and decided it was the right fit for her. She had not been on an organized tour before. This guided tour was the perfect number of days, with the right price, and was very well organized. It also tapped into Ruth's passion for photography, so it was ano brainer to sign up.
"It turned out to be the ideal experience! Everything from start to finish was so well organized. We never had to wonder what came next, or where to meet, or how long activities might take."
Even though Ruth thoroughly enjoyed seeing the Aurora in person, it wasn't the only highlight for her. She loved the trip to Carcross, a small Yukon community. She experienced soaking in natural hot springs and enjoyed the wonderful cuisine with the many new friends she made on the trip.
Having travelled to a number of countries, including Belgium, France, Holland, Ireland, Mexico, and Scotland, this Yukon trip stands out as unique to Ruth. She enjoyed having every detail taken care of, as well as the new experience of travelling with a cohesive group of people.
"I was able to enjoy the entire experience without feeling the anxiety I usually feel while travelling. I didn't need to research every detail and risk being disappointed at an event or restaurant. All that research had been done for me, and all those decisions had been made by people who have intimate knowledge of the area."
Ruth loves telling stories, and considers travelling to be the best way to do this. "Now, as my photography skills improve, my stories can be better illustrated."
Ruth's future plans include travelling with her husband, who will be retiring this year. They hope their future travels will be educational and fun, with the ultimate goal of selling a magazine article or two about their adventures.
About Langara
Located in beautiful Vancouver, B.C., Canada, Langara College provides University, Career, and Continuing Studies education to more than 21,000 students annually. With more than 1,700 courses and 130 programs, Langara's expansive academic breadth and depth allows students of all ages, backgrounds, and life stages to choose their own educational path. Langara is also known as house of teachings, a name given to it by the Musqueam people on whose unceded traditional territory the College is located.
Learn more.
Lisa Tuyen
Communications and Marketing
Langara College
604.323.5107
ltuyen@langara.ca