Jul 18, 2018
View the Continuing Studies 2018 Fall Guidebook online.
ALICE BAI | STUDENT SUCCESS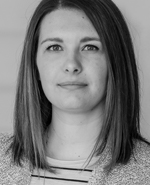 Since appearing in our Summer 2016 Guidebook, bookkeeping alumna Alice Bai has transitioned into being a solo business owner and moved from bookkeeping into systems design and consulting.
"My career path has gone through a number of changes over the years, but I always ended up in a role that had something to do with the financial aspects of business," says Alice Bai. "To me, the foundation of any business is the books."
Last year, Alice went from having multiple clients to working primarily for one client who runs three businesses: a podcast production company, a restaurant, and a farm-to-table grain and flour business. The change has streamlined her own business and allowed her to become more involved in her clients' businesses.
"Bookkeeping is inherently so much more than just adding up numbers," she says. "It's organization, investigation, and being detail-oriented."
Alice enjoys examining how different systems could be improved. Especially in this age of technology, with cloud accounting, apps, add-ons and plug-ins, she believes businesses can save considerable time and energy by connecting their point of sale system, for example, directly into their accounting program.
"Suddenly, you have made your life so much easier by having the two programs talk to each other," she says. "You can't make effective business decisions without knowing where you stand and the best way to get an accurate picture of your profits and losses is to have your systems work together."
In the near future, Alice hopes to apply what she's learned about bookkeeping and running a business to organize financial workshops for young female entrepreneurs.
"I have been approached by so many young women who have amazing businesses or business ideas, but don't know where to start," she says. "I'd love to provide a safe, non-judgmental environment for them to learn some typically dry business stuff in a fun and relatable way."
Alice Bai has spent her summer getting married and moving homes. She hasn't ruled out taking more classes at Langara on higher-level accounting.
About Langara
Located in beautiful Vancouver, B.C., Canada, Langara College provides University, Career, and Continuing Studies education to more than 21,000 students annually. With more than 1,700 courses and 130 programs, Langara's expansive academic breadth and depth allows students of all ages, backgrounds, and life stages to choose their own educational path. Langara is also known as house of teachings, a name given to it by the Musqueam people on whose unceded traditional territory the College is located.
Learn more.
Erin Anderson
Communications and Marketing
Langara College
604.323.5746
eanderson@langara.ca