Mar 14, 2018
View the Continuing Studies 2018 Summer Guidebook online.
SHELLY PRASAD | INSTRUCTOR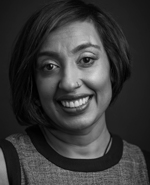 Instructor Shelly Prasad started her career in dentistry 21 years ago. Today, she's still at the same practice, balancing her work with teaching in our dental reception program.
"The best part of my career are the patients and the people I work with," says Shelly. "Most of our patients have been with the practice just as long as I've worked here."
At Dentists on Dunbar, Shelly has seen the needs of a dental practice change over the past two decades. Like many industries, the biggest change has been the advancement of technology. Claims, payments, and estimates, for example, are now sent via EDI (Electronic Data Interchange), which means faster confirmations of coverage, approvals, and payments. X-rays can be downloaded onto the patient's file like a digital picture.
"Technology changes and we need to keep up," she says. "Teaching has given me the chance to pass on my experience as well as show students what skills potential employers are looking for."
As the office manager and bookkeeper, Shelly understands many different aspects of a modern dental practice. While mastering technology is important, so is the ability to multi-task and quickly adapt to changes.
"One of the biggest challenges in working in a dental office is your day doesn't always stay on schedule," says Shelly. "I tell my students to go with the flow and have a back-up plan."
When she was a student, Shelly took classes part-time, three nights a week for three months. She understands that students are often trying to start a new career while balancing their lives.
"As a mom of two young children and a homeowner, taking time off for a full-time program was not feasible," says Shelly.
Within a year of graduating, she landed her first job. She says that today's graduates are lucky because they are entering an employees' market, with the highest demand for dental receptionists that she's ever seen in her long career.
"My best advice for students was given to me by my first employer," says Shelly. "It was 'You are the first and last person seen by the patient – make that moment a good one'."
In her spare time, Shelly Prasad volunteers in Vancouver's Downtown Eastside and says the experience has made her more compassionate. She also takes belly dance lessons for fun.
About Langara
Located in beautiful Vancouver, B.C., Canada, Langara College provides University, Career, and Continuing Studies education to more than 21,000 students annually. With more than 1,700 courses and 130 programs, Langara's expansive academic breadth and depth allows students of all ages, backgrounds, and life stages to choose their own educational path. Langara is also known as house of teachings, a name given to it by the Musqueam people on whose unceded traditional territory the College is located.
Learn more.
Erin Anderson
Communications and Marketing
Langara College
604.323.5746
eanderson@langara.ca