Nov 11, 2017
View the Continuing Studies 2018 Spring Guidebook online.
BRIAN K. SMITH | INSTRUCTOR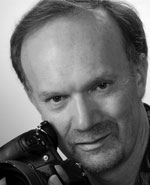 Brian K. Smith, who is leading our cultural tour to China this May, has a long history with both travel and Langara. He began saving up for his first international adventure as soon as he graduated from Langara's Photography Technician Program in 1977.
"Three years later, I went on a backpacking and train trip through Europe and the British Isles," recalls Brian. "That was it – world travel became a passion."
Travel ties in neatly with Brian's other lifelong pursuit: photography. He's been a photographer for over 30 years and he is an accreditation judge with the Professional Photographers of Canada (PPOC) as well as the chair of their Lower Mainland chapter.
While this trip is not a photography tour, Brian will share his experienced eye with his group.
"Being a professional photographer, your eyes are trained to search out the interesting and unusual," says Brian. "I like to show people this so they can get something more than the regular tourist snaps."
Travel is also a big part of Brian's career. As an international photographer, he's exhibited his work, participated in discussion panels, and given presentations on travel photography.
"I think both photography and travel are about a continual education and exploration of our world," he says. "Every new experience creates more depth to who we are."
Through his globe-trotting, Brian has connected with photographers from around the world. He has found that their different backgrounds and perspectives energize his own work.
"We are all individuals who see, taste, feel, and hear things in our own way," says Brian. Brian has travelled to China 11 times and he will be taking his group to many places he's been before, including some of his favourite craft brew pubs. He says that one benefit of a group tour is that you can enjoy some experiences that would be hard to arrange alone.
"Travel is important because nothing else can give an experience like being there," says Brian. "When it comes to travel and photography, my energy is endless."
Brian K. Smith has been to over 40 countries and is an accredited member of British Columbia Association of Travel Writers (Press). China: Fusion of New and Ancient departs in May 2018.
About Langara
Located in beautiful Vancouver, B.C., Canada, Langara College provides University, Career, and Continuing Studies education to more than 21,000 students annually. With more than 1,700 courses and 130 programs, Langara's expansive academic breadth and depth allows students of all ages, backgrounds, and life stages to choose their own educational path. Langara is also known as house of teachings, a name given to it by the Musqueam people on whose unceded traditional territory the College is located.
Learn more.
Erin Anderson
Communications and Marketing
Langara College
604.323.5746
eanderson@langara.ca