Nov 11, 2017
View the Continuing Studies 2018 Spring Guidebook online.
LOUISA LAM | INSTRUCTOR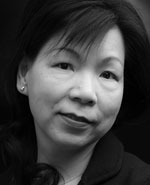 Floristry instructor Louisa Lam has been teaching floral design for nearly 30 years, but her connection to plants started much earlier.
"When I was little, I liked to grow plants and flowers," she says. "I found flowers always gave people happiness."
Louisa developed her floral design skills by entering competitions in Canada and Hong Kong as well as joining professional associations. Louisa was the first Asian florist to obtain a membership in the Canadian Professional Floral Designer Association (CPFD) in 1991 and she was inducted into the American Institute of Floral Designers (AIFD) in 2009. Currently, she serves as the vice president of the AIFD North West Regional Chapter and vice chair of the AIFD National Membership Committee.
"A flower is not just beautiful," she says. "Through design, it can become a piece of art."
Being an instructor at Langara helps her stay current, as she likes to teach students new techniques and how to use trendy materials. Her students are diverse in age and background. Some are interested in floristry as a hobby while others want to acquire professional skills.
"Once they have finished all the courses, most of them would like to apply the skills that they have learned to a future career or their own business," says Louisa.
In terms of careers, students might find their floral design knowledge helpful when looking to work as a florist, an event planner, or an interior decorator, among others. One of Louisa's most memorable students enrolled in her floristry courses while studying business administration at UBC, and he now manages his parents' wholesale flower business back in Asia.
"My teaching philosophy is simple," says Louisa. "As students begin, I stand in front of them. As they gain skills, I stand beside them. When it is time, I stand behind them."
Louisa Lam was the first official AIFD Certified Floral Judge and Evaluator in British Columbia. In 2005, she represented Canada at the Hong Kong Flower Show and received "Award for Outstanding Exhibit" in the International Category.
About Langara
Located in beautiful Vancouver, B.C., Canada, Langara College provides University, Career, and Continuing Studies education to more than 21,000 students annually. With more than 1,700 courses and 130 programs, Langara's expansive academic breadth and depth allows students of all ages, backgrounds, and life stages to choose their own educational path. Langara is also known as house of teachings, a name given to it by the Musqueam people on whose unceded traditional territory the College is located.
Learn more.
Erin Anderson
Communications and Marketing
Langara College
604.323.5746
eanderson@langara.ca