Nov 11, 2017
View the Continuing Studies 2018 Spring Guidebook online.
PETER NORWOOD – INSTRUCTOR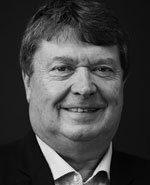 Accounting instructor Peter Norwood has had a long career in both curriculum development and professional accounting, but teaching caught his interest early and didn't let go.
"I taught part-time in the professional accounting programs almost from the time I became a professional accountant," says Peter. "There is always a sense of personal triumph when you see students that have graduated from our programs have successful careers."
Since coming to Langara, he has chaired the accounting department and was the first chair of the Langara School of Management. Now a full-time instructor, Peter is working with Continuing Studies to develop the curriculum for the Advanced Certificate in Accounting and Finance (ACAF).
"Because of my involvement in the merger of the three accounting designations into the CPA, I was very familiar with the ACAF program," he says. "The ACAF program can be used to introduce people to accounting and provide practical accounting skills that will be sought after in the job market."
Whereas the Chartered Professional Accountant (CPA) designation provides a more holistic and deeper understanding of accounting, the ACAF program focuses on the practical application of accounting. Peter expects that many people who complete the ACAF program will wish to continue their education by earning the CPA designation.
"The need for highly trained accountants – whether through ACAF or the CPA designation – will continue," he says. "The need to understand the financial situation of any business is of utmost importance."
Peter thinks there is a common misconception about accountants as 'back room' people who only like to deal with numbers. Accountants need strong technical skills, but also need to be good communicators.
"Students' success will be based not only on technical proficiency, but also on their ability to communicate and work with other people across the organization," says Peter. "It is not just about the numbers."
Peter Norwood was the chair of the Chartered Accountants' Education Foundation for six years and has an MBA from the University of Western Ontario. In his spare time, he plays golf and reads as much as he can.
About Langara
Located in beautiful Vancouver, B.C., Canada, Langara College provides University, Career, and Continuing Studies education to more than 21,000 students annually. With more than 1,700 courses and 130 programs, Langara's expansive academic breadth and depth allows students of all ages, backgrounds, and life stages to choose their own educational path. Langara is also known as house of teachings, a name given to it by the Musqueam people on whose unceded traditional territory the College is located.
Learn more.
Erin Anderson
Communications and Marketing
Langara College
604.323.5746
eanderson@langara.ca