Jul 6, 2015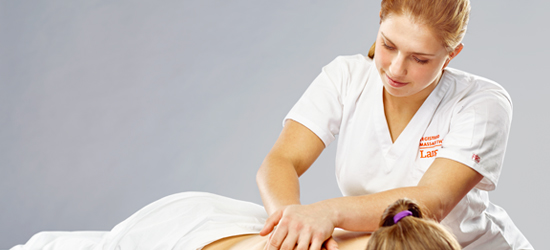 Vancouver, BC - Massage therapy has always been something I've been interested in. On all my sports teams, I've been the 'designated' massage therapist, but it wasn't until I came to Langara that I considered it as a career. As I looked further into the massage therapy program, I knew it was a great fit. Unfortunately, evening classes coincided with soccer practice, and something that seemed so perfect suddenly turned into a huge dilemma. I was heartbroken. But when my coach told me he would still love to have me on the team – despite me missing every practice – I was elated.
My classmates come from such diverse backgrounds; one studied economics and worked in a bank but wants to change careers, another used to be a chef. They're all especially supportive in helping me catch up, and share any coursework I've missed. We take advantage of breaks and lunch to study together and tutor each other. Likewise, my Falcons teammates push me to focus on studying, plus, I get to practice my massage techniques on them. Soccer and RMT just go hand-in-hand.
One thing I learned from athletics that has carried over into my academics is perseverance. It's challenging being in such an intense program. And the last two weeks of finals are like the last ten minutes of a game in overtime; studying is most important and procrastination isn't an option. Luckily, I learned good time management skills in high school and I'm used to having every hour slotted into something. It's an intimidating amount of knowledge, but I thrive on being in a program and knowing exactly what I'm working towards.
Katie helped lead the Langara Falcons to a silver medal at the 2014 PACWEST Championships, and was named the tournament's Top Defender.
About Langara
Located in beautiful Vancouver, BC, Canada, Langara College provides University, Career, and Continuing Studies education to more than 21,000 students annually. With more than 1,700 courses and 130 programs, Langara's expansive academic breadth and depth allows students of all ages, backgrounds, and life stages to choose their own educational path.
Learn more.
Mark Dawson
Communications Officer
T 604.323.5702
mdawson@langara.bc.ca
Cora Van Wyck
RMT Program Coordinator
T 604.872.3690
cvanwyck@langara.bc.ca