Apr 6, 2020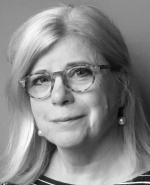 JUDITH M. ATKINSON | STUDENT SUCCESS
As a visual artist, Judith M. Atkinson has a diverse portfolio that includes assemblage sculpture, painting, and installation works. As a Fine Art instructor at Langara College, she will be leading this summer's newest Educational Travel Salt Spring Island Painting Tour.
Judith loves having the opportunity to share new cultural experiences with her students. She has experienced the benefits of travel first-hand and is excited to lead students through the unforgettable experience of the sights, sounds, and tastes of a new place.
Judith also led the Painting in Tuscany Tour, a program where students sketch and paint while exploring historical sites in Florence, Cortona, and Arezzo. Her favourite part of this tour included the exhibition at Villa Cuiano, the traditional Italian agriturismo farmhouse accommodation where students stay during the tour. It showcased the wonderful work that the students created during their stay. The affinity that developed within the group as the trip progressed was a definite highlight for her. "I hope students travelling in my groups find inspiration from the sites we visit. The masterpieces we view coupled with their experience will translate into a work of art for themselves that will trigger the experience long after they return home."
A pivotal experience for the group included the chance to listen to Peter Bartlett, a British artist living in Pierle. He led the tour group to see the Fresco by Piero della Francesca, 'the Legend of the True Cross' in Arezzo. It was a monumental experience for the group, as it helped students better understand the artwork and it also influenced Judith's most recent exhibition.
The Return of the Goddess, Judith's most recent solo exhibition, focuses on the Goddess Athena and her qualities, with a tie-in to the Me Too movement and the climate crisis we currently face. This exhibition is a perfect example of how Judith blends art with the social causes that she feels passionate about.
Judith enjoys traveling, exploring and appreciating classic artwork from the great artists of all time. In case you were unsure, she loves art, and has a working studio and garden at her home in Port Moody where she enjoys spending her free time.
View the Continuing Studies Summer 2020 Guidebook online.
About snəw̓eyəɬ leləm̓ Langara College
Located in beautiful Vancouver, B.C., Canada, snəw̓eyəɬ leləm̓ Langara College provides University, Career, and Continuing Studies education to more than 23,000 students annually. With more than 1,700 courses and 130 programs, Langara's expansive academic breadth and depth allows students of all ages, backgrounds, and life stages to choose their own educational path. Langara is also known as snəw̓eyəɬ leləm̓, a name given to it by the Musqueam people on whose unceded traditional territory the College is located. Langara is celebrating its 49th year on West 49th Avenue with Beyond 49, an integrated celebration, alumni engagement, and fundraising campaign to reconnect with alumni, and raise funds for student support and important College initiatives. Learn more.
Learn more.
Lisa Tuyen
Communications and Marketing
Langara College
604.323.5107
ltuyen@langara.ca