Apr 6, 2020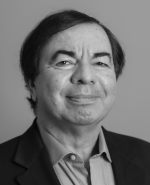 MARK ILMAN | STUDENT SUCCESS
Mark Ilman is the founder and CEO of Internetwizards Web & SEO Consulting, a Vancouver-based company that helps small businesses attract more clients and increase sales by strategically improving their online presence. He decided to start his own consulting business after completing the Web Marketing Certificate program at Langara. Before that, he had a successful career in sales and marketing but was looking to shift his career into online marketing as he knew that's where the industry was heading.
"I was already a successful marketing person but in a traditional way. I just needed to learn how to apply what I knew to digital marketing. I heard about Langara's Web Marketing program and after checking all the details of this great program I got very excited – I had found exactly what I needed!"
Mark always dreamed of starting his own business. By studying at Langara Continuing Studies and being a dedicated, top of the class student, he felt prepared to kick off the process of making his aspirations a reality. "I didn't know anything about digital marketing, or SEO, or Google Ranking at all. I learned everything in a very professional way through Langara's top-class instructors. The instructors were always pushing me to be the best in this field and even helped me create my business website before graduating."
Going back to school as a mature student was a natural transition for Mark as he realized lifelong learning is essential in the ever-changing technology industry. After graduating, he continued to pursue training by joining mastermind SEO groups. He is now a well-known SEO expert and SEO specialist, and has clients from as far away as Australia and Bali. He strongly believes that working hard to be the best in anything we do will bring us success in any field.
Mark's hobbies involve keeping up with the latest SEO & Google algorithm changes and technological developments. He also loves playing tennis and stopping by local coffee shops to socialize with like-minded people.
View the Continuing Studies Summer 2020 Guidebook online.
About snəw̓eyəɬ leləm̓ Langara College
Located in beautiful Vancouver, B.C., Canada, snəw̓eyəɬ leləm̓ Langara College provides University, Career, and Continuing Studies education to more than 23,000 students annually. With more than 1,700 courses and 130 programs, Langara's expansive academic breadth and depth allows students of all ages, backgrounds, and life stages to choose their own educational path. Langara is also known as snəw̓eyəɬ leləm̓, a name given to it by the Musqueam people on whose unceded traditional territory the College is located. Langara is celebrating its 49th year on West 49th Avenue with Beyond 49, an integrated celebration, alumni engagement, and fundraising campaign to reconnect with alumni, and raise funds for student support and important College initiatives. Learn more.
Learn more.
Lisa Tuyen
Communications and Marketing
Langara College
604.323.5107
ltuyen@langara.ca