Apr 6, 2020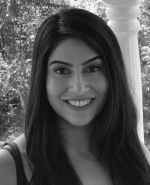 SAFIA SULEMAN | INSTRUCTOR
Safia Suleman has many talents. She is an inspiring bookkeeping instructor, a successful entrepreneur, and an enthusiastic fitness coach. Currently, she is working on her start-up, Jolt Performance, producing and selling tasty caffeinated protein bars with a healthy nutritional profile. Her background in accounting gives her a strong understanding of the financial foundation of any company, which in-turn has helped her better manage her own business.
"Mastering bookkeeping and accounting are such important skills for anyone running their own business. As a business owner, it's important to be able to track my finances so I know how my business is performing. My background in accounting really is an asset in analyzing the monthly financial results and knowing how to strategize from a financial perspective," says Safia.
As a bookkeeping instructor at Langara, she enjoys connecting with students and learning what led them to bookkeeping. For Safia, it's key to create a learning environment that welcomes students with different goals and all levels of knowledge.
"The students in my classes come from a variety of backgrounds and have different experiences in the accounting world. For this reason, I work to create a class that breaks down the basic accounting concepts well enough for the beginners, while also engaging and challenging the more advanced students. It's also important to provide a well-rounded base, as someone who will be doing accounting work may have different needs based on the industry they are in."
Safia completed her undergraduate degree at the Beedie School of Business at SFU and her Master of Professional Accounting degree at the University of Saskatchewan. After graduating, she obtained her Chartered Professional Accountant (CPA) designation while working at KPMG, one of the largest international accounting organizations. She's currently a CPA exam marker in addition to her many other talents.
Safia devotes her spare time to her passion­ – her business. On weekends, she does pop-ups or product demonstrations for Jolt Performance at fitness studios and local stores. She also enjoys outdoor activities, and taking dance and fitness classes.
View the Continuing Studies Summer 2020 Guidebook online.
About snəw̓eyəɬ leləm̓ Langara College
Located in beautiful Vancouver, B.C., Canada, snəw̓eyəɬ leləm̓ Langara College provides University, Career, and Continuing Studies education to more than 23,000 students annually. With more than 1,700 courses and 130 programs, Langara's expansive academic breadth and depth allows students of all ages, backgrounds, and life stages to choose their own educational path. Langara is also known as snəw̓eyəɬ leləm̓, a name given to it by the Musqueam people on whose unceded traditional territory the College is located. Langara is celebrating its 49th year on West 49th Avenue with Beyond 49, an integrated celebration, alumni engagement, and fundraising campaign to reconnect with alumni, and raise funds for student support and important College initiatives. Learn more.
Learn more.
Lisa Tuyen
Communications and Marketing
Langara College
604.323.5107
ltuyen@langara.ca